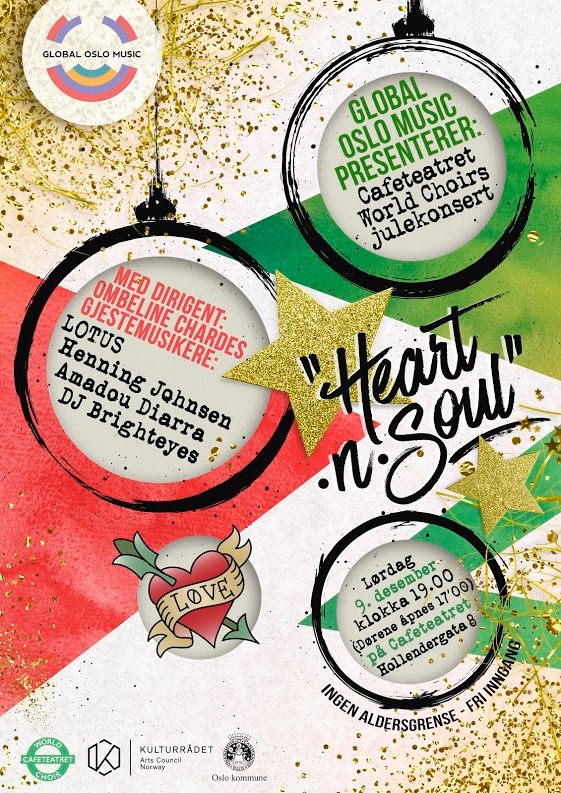 Når Cafeteatret World Choir går på scenen i desember, er det med programmet «Heart n' Soul» – korets julegave til publikum! De lover sanger spesielt arrangert for anledningen og flotte utøvere på scenen.
Vi lover et raust og lekkert juleshow – vær tidlig ute for Cafeteatret fylles raskt opp til randen! Dørene åpnes kl. 17'00. – konsert kl. 19:00
(E) Don't miss out on Cafeteatret World Choir's «Heart n' Soul» christmas show at Cafeteatret. An evening filled with soulful music, performed by the choir, musicians & DJ. And yes, you can sing along and dance! Door opens at 5 pm – concert 7pm
OM KORET
Cafeteatret World Choir er en møteplass for mennesker med røtter til ulike kulturelle tradisjoner, som kommer sammen for å dele sine personlige stemmer. Det bobler av kreativitet og kulturelle referanser fra hele verden som deles sjenerøst med publikum. Under ledelse av dirigent Ombeline Chardes.
«Glede og ha gleden av å synge er nøkkelen!»
– Nina Vestby, grunnlegger av Cafeteatret World Choir.
(E) Established in 2013 the choir reflects the diversity of the global community Norway has become: Its artistic concept is to explore new musical and human encounters. With the guidance of conductor Ombeline Chardes the audiences is offered a multitude of musical and cultural meetings.
På scenen / On stage:
Helge Øgrim
Knut A. Eriksen
Richard Mikalsen
Knut Kristian Ås
Sagar Sen
Helge Hatland
Stein Aarum
Bernt Eide
Kyrre Øien
Malene Emilie Augland
Kari-Anne Ulfnes
Anne Tiballs
Caroline Sassier
Eva Nyborg
Hanne B. Nystrøm
Kathrine Høegh-Omdal
Line Bing Vangsnes
Tove Skytterholm
Lene Andresen Norlund
Inger Sigfridsson
Thora T. Risan
Hanne Cervino
Ingebjørg Slettahjell Nango
Sissel Waaler
Eva Brodersen
Anna Weilhartner
Eva Rambech
Guri Engernes Nielsen
Thea Cathrine Mælhum
Nina Vestby
Utøvere/musicians: LOTUS, Henning Johnsen, Amadou Diarra & DJ Brighteyes
Ingen aldersgrense / children allowed
Med støtte fra Norsk kulturråd og Oslo kommune
With financial support from Arts Council Norway and the City of Oslo
globaloslomusic.com