Søndag 4. mars kl. 20:00 – Plateslipp: Eyolf Dale Wolf Valley
Eyolf Dale: piano, Per Zanussi: bass, Gard Nilssen: trommer, André Roligheten – saksofon & klarinett, Hayden Powell: trompet, Kristoffer Kompen: trombone, Adrian Løseth Waade: fiolin, Mattias Ståhl: vibrafon
billetter: https://nordicblacktheatre.hoopla.no/sales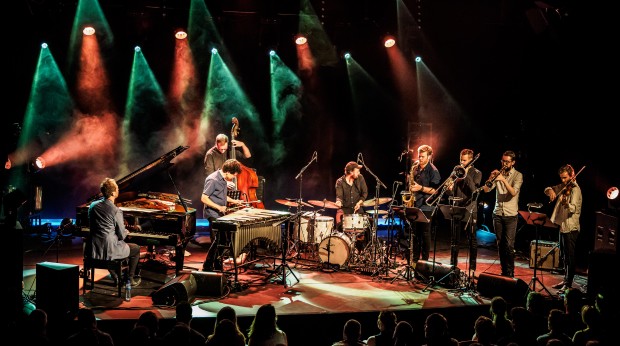 Foto: Tor Egil Leirtrø
For to år siden lanserte Eyolf Dale prosjektet som resulterte i ei plate i 2016. Selv om tittelen spiller på lederens eget navn, er det ikke ei straight soloplate. Prosjektet er bygget rundt et all star-band av norske jazzmusikere. Dales komposisjoner er en viktig basis, men den sentrale kjernen er medlemmenes sterke stemmer og integrasjonen av dem.
Etter den første plata kommer nå nummer to på Edition Records. Albumet «Return to Mind» har blitt et sterkt visittkort med sterke komposisjoner og samspill med overskudd.
Dale øser freidig av de forskjelligste inspirasjonskilder. Musikken er melodisk, med tette, varme ensemblepartier. Den er også ekspressiv og rytmisk, dynamisk og skiftende – og tør å kjenne på de store emosjoner!
Hør det først på Kampenjazz!
https://www.youtube.com/watch?v=c6ekOPz80Fg