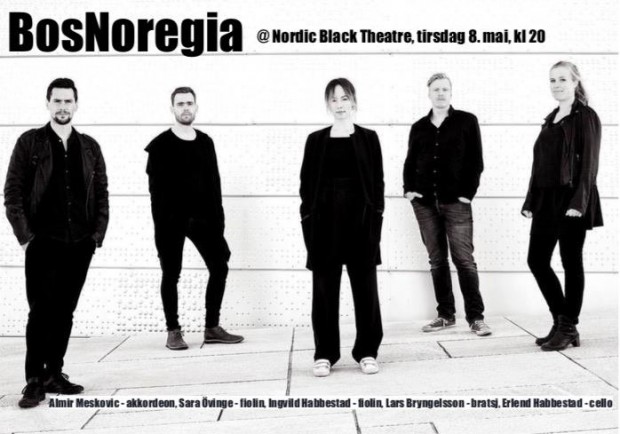 tirsdag 8. mai
kl. 20:00 – kr 150
presale (med billettavgift) https://nordicblacktheatre.hoopla.no/sales/3851509600
bosNOREGia er et verk skrevet av Kjell Habbestad, for Almir Meskovic og Unionskvartetten, hvor han har latt inspirasjon fra to ulike folkekulturer generere et kunstmusikalsk møtepunkt.
Verket tar, som tittelen antyder, utgangspunkt i et rikt materialtilfang fra begge land — i jakten på møtepunkter, fellestrekk og kontraster. Ideen om å flette norsk og bosnisk kultur sammen, kulminerer i et møte mellom de to lands nasjonalsanger, både enkeltvis — og i kontrapunkt med hverandre.
Almir Meskovic – akkordeon
Sara Övinge – fiolin
Ingvild Habbestad – fiolin
Lars Bryngelsson – bratsj
Erlend Habbestad – cello