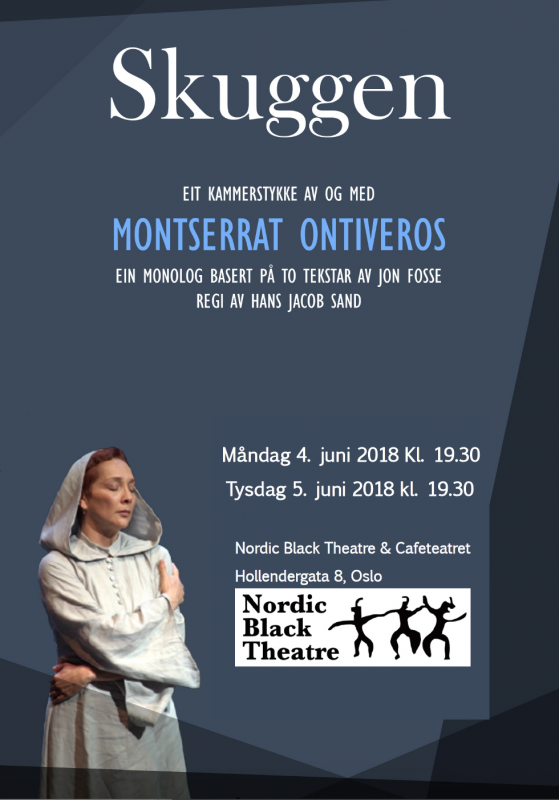 mandag 4. juni
og tirsdag 5. juni
kl. 19:30
kr 150 – billetter kan kjøpes her: https://nordicblacktheatre.hoopla.no/sales
Skuggen / La Sombra
Monolog basert på to tekstar av Jon Fosse
Eit kammerstykke av og med Montserrat Ontiveros.
Regi av Hans Jacob Sand.
Å bli ein skugge, å bli nokon som ein gong har vore, men har valt ikkje å vere.
Skuggen er eit kammerstykke basert på Leve Hemmeleg og delar av Suzannah. Det
er ein minimalistisk oppsetjing som handlar om å vere og ikkje å vere. Mens i
Suzannah, Fosse gjer eit forsøk på å finne att Ibsens kone som person og karakter, i
Leve Hemmeleg undersøkjer han retten til å vere sjølv, til å leve eit privatliv i fred,
til å bli taus. Samanheng mellom dei to tekstane fortolkar båe.
MONTSERRAT ONTIVEROS
Meksikansk skuespiller født i 1960, og busatt i Noreg siden 2009. Hun studerte teater
ved det Nasjonale Universitetet i Mexico. Hun har deltatt i flere workshops, bl. a. ved
Roy Hart Theatre. Hun har fått det meksikanske kulturrådsstipendet tre ganger.
Montserrat har spilt i minst 20 teaterstykker. Blant hovedrollene hennes er: Ellida i
Fruen fra Havet, av Henrik Ibsen; Beatriz i The Changeling, av Middleton og Rowley;
Annie i The Real Thing, av Tom Stoppard; og Camille Claudel i Camille av Hugo Hiriart.
I Norge har hun framført Leve hemmeleg, av Jon Fosse, og Reiser med min Tante, basert
på tekster av Ibsen, Vesaas, Olav H. Hauge m. fl.
Hun har spilt hovedrollene i 17 TV-såpeoperaer og mer enn 37 programmer, både i
Mexico og Norge. Hun ledet Det Svakeste Ledd (The Weakest Link) i Mexico, fra 2003 til
2009. I film hun har jobbet under regissører som Alfonso Cuarón og Fernando
Sariñana, m. fl. Hun har også spilt hovedrollene i forskjellige radioteaterproduksjoner.
Teater utforsking og utvikling er største interesse hennes. Som profesjonell
skuespiller, jobber hun også med litteratur, språk, dans, sang, og yoga. Den siste årene
hun har vært drama lærer i Vinje.