https://www.facebook.com/BDaSufi/videos/2200877063315764/
Flowing into the blues release concert B-Da Sufi live with full band.
Saturday 24th November kl. 20:00
kr 100 i døra
Hip hop/ Blues
Guest artists
Ole-O
Ingrid
Fabrizio
Rah
Birdnest
Izzi Jay
Mc of the night Afrikane-Ug
Dj Frank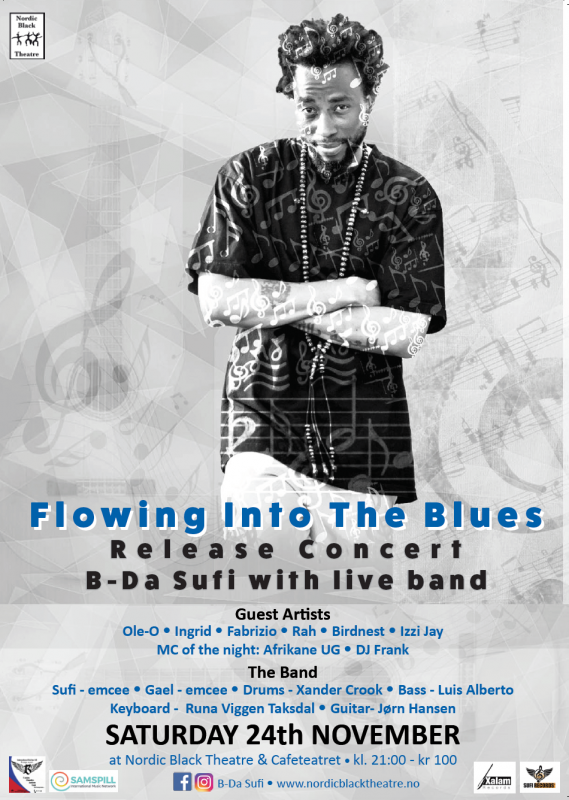 Release concert of B-Da Sufi's new album called "Flowing Into the blues"
We'll perform the whole album with full live band and guests artists.
We gonna be sure that it's an evening to remember. Come and witness history.
The band
Sufi – emcee
Gael – emcee
Drums – Xander Crook
Bass – Luis Alberto
Keyboard – Runa Viggen Taksdal
Guitar- Jørn Hansen
Cc: kr 100
Door opens: 20:20
Norsk:
Release konsert til B-Da Sufi's nye album "Flowing Into the blues"
Albumet vill blir fremført med fullt band og gjeste artister. De garanterer at dette er en kveld du sent vill glemme.
Kom og vær vitne til historie.