Cikada pianotrio
Cafeteateret  22. februar 2019
kl 19.00
Billetter kan kjøpes i døra eller her: https://nordicblacktheatre.ticketco.events
kr 150/100 + avgift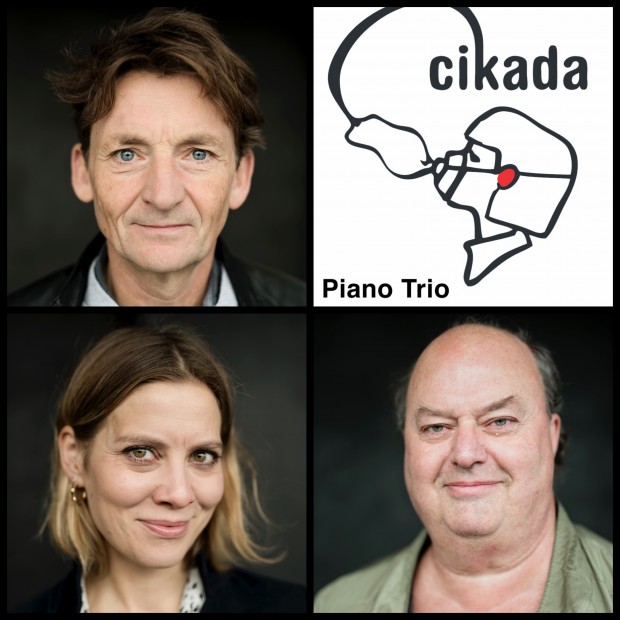 Cikada pianotrio består av Kenneth Karlsson (piano), Odd Hannisdal (fiolin) og Torun Stavseng (cello).
Pianotrioen er et kammerensemble dypt forankret i de wienerklassiske  og romantiske tradisjonene, og har siden den gang vært en av de grunnleggende formatene i kammermusikken. Cikada pianotrio søker bevisst og kontinuerlig å utforske formatet og  hvert instruments tradisjonelle rolle.
Konserten er en del av Cikadas 30 års feiring, en serie av konserter som tar oss med gjennom hele året og viser de forskjellige aspektene av Cikadas bidrag til samtidsmusikkscenen.
Siden starten i 1989 har Cikada ensemble etablert en rendyrket og velrenommert profil på den internasjonale samtidsmusikkscenen. Ensemblet har siden begynnelsen bestått av fløyte, klarinett, piano, perkusjon, strykekvintett og dirigent Christian Eggen, og alle ti medlemmer er likestilte, faste medlemmer. Ensemblet knyttes sterkt til den såkalte Oslo Sound med sine friske, energiske, varme og virtuose tolkninger av et bevisst utvalgt repertoar.
Cikadas distinkte ensembleprofil uttrykkes gjennom sterk programmering i konserter ved store internasjonale festivaler og i en rekke plateinnspillinger. I kjernen for dette arbeidet ligger ønsket om å utvikle langvarige samarbeid med komponister og over tid å bygge opp komponistportretter bestående av verker skrevet til ensemblet.
De ni musikerne danner også flere mindre formasjoner innenfor gruppen: Cikada strykekvartett, Cikada RBK (klarinett, piano og bratsj) og Cikada pianotrio opererer som uavhengige grupper i både inn- og utland.
Cikada ble tildelt den prestisjetunge Nordisk råds musikkpris i 2005.
Program
Henrik Hellstenius:  Unfolded as it were (2017/18)  URPREMIERE
Beat Furrer: Retour an dich (1986)
Asbjørn Schaathun: Seven Afterimages – London 1985 (2018)  URPREMIERE
Henrik Hellstenius:  Unfolded as it were (2017/18)
Unfolded, as it were, is a piano trio composed on commission by Cikada Trio. This piece shifts between short sections, or moments, with repetition of a sparse material of chords and sound objects, and moves towards a more linear music. It begins in an environment of small cells of noise sound and repeated musical objects. Then it moves towards a linear outstretched music, unfolding gradually a long garland or chain of tight piano chords forming the nave the last part of the piece. The piece develops from fragmented music towards compound music, from objects towards process.
Beat Furrer: Retour an dich (1986)
This is ascetic, introverted music. Instead of opening, unfolding, the fragments which constitute it convey to listeners a sense of the ideas and feelings they contain. If the music seems cold (except for some gentle, lyrically suggestive sections), that surely has to do with the image in the composer's mind as he worked: "I speak of shards of glass, shining like pearls on the river bottom which again and again awaken our longing, where we step down ever again to retrieve them, only to find that they are merely shards of glass when we see them on the surface."
Asbjørn Schaathun: Seven Afterimages – London 1985 (2018
Som komponisten Igor Stravinsky uttrykte det: "når jeg skriver et stykke musikk skriver jeg gjerne noe i midten først, slik at jeg vet hva jeg skal skrive 'forspillet' til." Så også her i Seven Afterimages for pianotrio som er en del av et større prosjekt, Mirages – skrevet for ensemblet Cikada – med den dårlig skjulte selvbiografiske undertittelen London 1985. Seven Afterimages befinner seg midt i og på siden av Mirages ved at de små stykkene både er viktige elementer i den endelige utformingen av Mirages og at de syv stykkene i seg utgjør et hele som illuderer etterklangen av et verk – som ironisk nok ennå ikke foreligger.