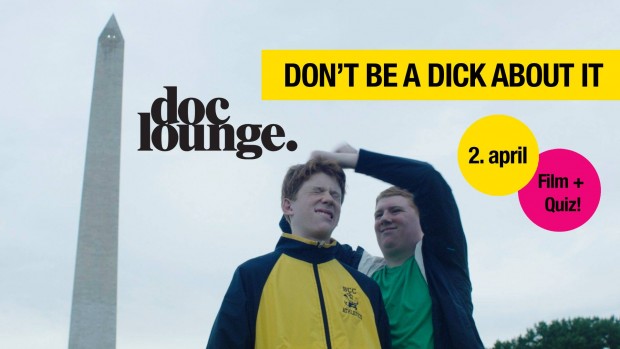 Velkommen til Doc Lounge, og et intimt feelgood-portrett av to brødre og deres vennskap.
DØRENE ÅPNER: 18.00
EVENTET STARTER: 19.00
?QUIZ (med premie!):
Før filmen blir det quiz med reality-tema, pluss litt godt og blandet! Mer info om dette kommer.
?OM FILMEN:
«Don't Be a Dick About It» følger brødrene og bestevennene Peter og Matthew gjennom latter og krangling i hverdagen. Peter er hektet på reality-serien Survivor (Robinsonekspedisjonen) og prøver å gjenskape den hjemme med søskene som deltakere. Matthew er redd for hunder og besøker stadig en hundegård i et forsøk på å bli kvitt fobien sin. I dokumentaren følger regissøren brødrene tett gjennom galskap, heftige diskusjoner og betingelsesløs kjærlighet.
Lengde: 69 minutter
Språk: Engelsk
TRAILER: https://vimeo.com/295314275
ENGLISH: Red-headed brothers Peter and Matthew are best buds, but they're also constantly at each other's throats. Peter is obsessed with the TV show Survivor, and ropes his family into daily reenactments. His younger brother Matthew is scared of dogs and is trying to get over it. The camera follows them affectionately in their everyday lives, through madness, warm family life, love and occasional furious arguments.
Length: 69 minutes
Language: English
DOORS OPEN: 18.00
EVENT STARTS: 19.00
STED: Cafeteateret på Grønland, Hollendergata 8.
(Ta 37-bussen til Politihuset.)
Billetter selges i døren: 70,- (50,- for studenter)
Støttet av Norsk Filminstitutt.
Om Doc Lounge:
På Doc Lounge i Oslo får du servert det beste av internasjonal dokumentarfilm. Doc Lounge Oslo har fra februar 2016 hatt månedlige dokumentarfilmvisninger. Med Doc Lounge ønsker vi å holde inspirerende kvelder basert på gode dokumentarer, med tilskudd av musikk, underholdning, foredrag, forestillinger eller utstillinger. Arrangementene er lagt til første tirsdag i måneden på Cafeteateret.