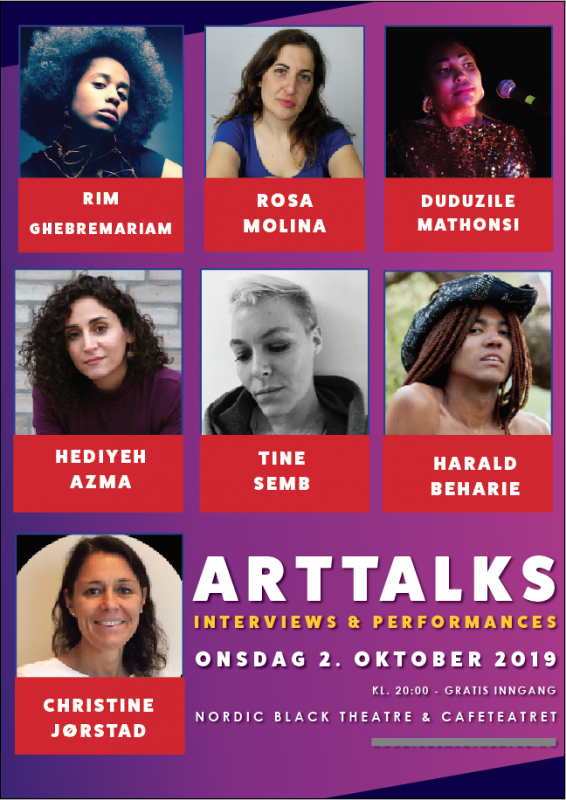 English below…
Vi har invitert 6 spennende kunstnere for å snakke litt om hva de holder på med, før de viser oss på scenen…
På denne ARTTALKS møter vi:
Rosa Molina (regissør fra Catalunia)
Rim Ghebremariam (poet/skuespiller)
Duduzile Mathonsi (performing artist)
Hediyeh Azma (danser)
Christine Jørstad & Harald Beharie (dans)
vi gleder oss til å bli bedre kjent med de og se de på scenen!
dørene åpner kl. 19:00
Arttalks begynner kl. 20:00
gratis inngang
————–
We have invited six artists who work with dance, poetry and theatre. We have a chat to each about their work before they perform on stage, which makes for a wonderful evening.
Our guests at this Arttalks are:
Rosa Molina (director from Catalunia)
Rim Ghebremariam (poet/actress (and more!)
Duduzile Mathonsi (performing artist)
Hediyeh Azma (dancer)
Christine Jørstad & Harald Beharie (dance)
Doors open at 7pm and Arttalks starts at 8pm
free entrance
Arttalks Intervju & performance på Cafeteatret Hver Arttalks invitere vi 4-5 kunstnere for et intervju og for å vise oss litt av hva de holder på med.
Filmskapere, forfattere, dansere, musikere, regissøre, skuespillere ++++ kan oppleves.
Publikum kommer nærmere kunstnere og kunstere kommer nærmere publikumet. Arttalks er inspirerende for både kunstnere og publikum!
kl. 20:00 – gratis inngang