Nordic Black Theatre & Cafeteatret tar en for laget og holder stengt t.o.m. 13. april. 
Vi avlyser alle forestillinger, konserter, private arrangementer og andre publikumsaktiviteter. Dersom du har kjøpt billett gjennom vårt billettsystem på TicketCo vil du snart bli kontaktet og få refundert kjøpet. Dette gjelder også forestillingen «After The Dream» på Den Norske Opera og Ballett. Operaen kontakter publikum angående deres billettkjøp så raskt som mulig.
Vi beklager de ulemper dette medfører.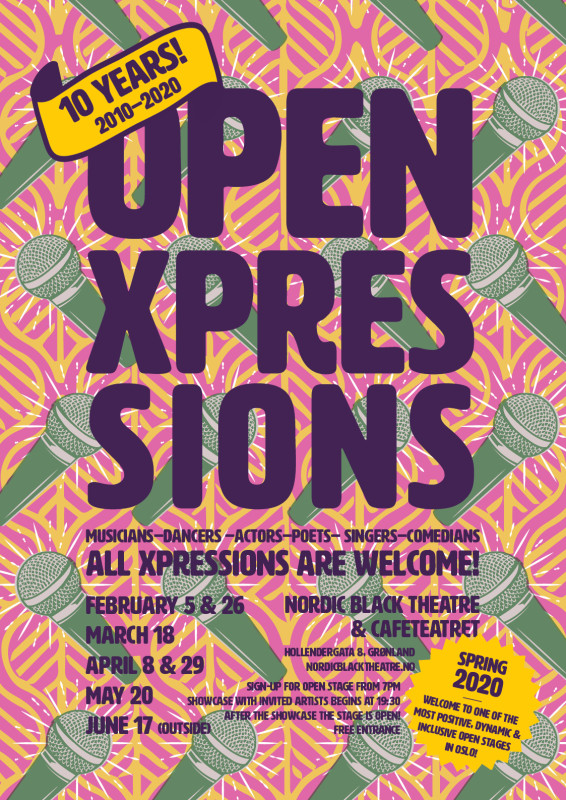 Welcome to the first Open Xpressions for 2020!!!
This year we are celebrating 10 years of this much loved arrangement!
We kick off the new year with a brilliant showcase of great artists followed by the «anything can happen» open stage!
sign up for the open stage from 7pm
we start with the showcase of invited artists at 7.30pm
and the open stage is after this
Open Xpressions is free and open to all ages
Open Xpressions startet i 2010 og ble raskt en av Oslos mest dynamiske, åpne scener – hvor du kan få se ting som er helt annerledes enn det som når frem gjennom andre etablerte kanaler. Hver tredje onsdag presenterer Caféteateret en showcase med utøvere som de mener fortjener oppmerksomhet. Showcasen blir deretter etterfulgt av åpen scene. Utøvere registrerer seg samme kveld og blir så kalt opp for å dele det de har på hjertet – enten det er musikk, dans, stand-up, poesi eller skuespill. Open Xpressions har holdt seg populært i mange år nå, kanskje på grunn av kveldenes uforutsigbarhet, eller den imøtekommende atmosfæren hos et nysgjerrig publikum som setter pris på troll i eske-faktoren.
påmelding fra kl. 19:00
showcase fra kl. 19:30
gratis inngang – fri aldersgrense