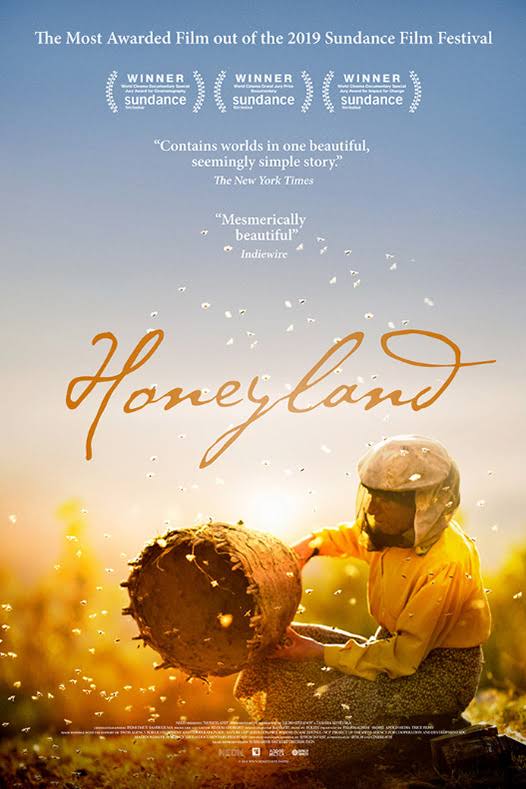 TRIPPEL VINNER på SUNDANCE!
OM FILMEN:
I denne uforglemmelige dokumentaren følger vi den makedonske honningsankeren Haditze og hennes sengeliggende mor, og deres kamp mot en nomadisk familie som flytter inn og truer med å ødelegge den naturlige balansen i økosystemet som omgir dem.
Filmskaperne har skapt en sår og svært vakker film om hvor skjørt forholdet vårt til naturen er. Nærmest fullstendig isolert fra omverdenen bor Haditze sammen og moren i en forlatt landsby. Regissørduoen fulgte dem gjennom en treårsperiode, og har klart å forme en enestående kompleks historie ut fra råmaterialet som på overflaten framstår utrolig enkel fortelling – med enorm klangbunn.
_______
I forkant av filmen vil vi få besøk av ByBi som vil komme for å snakke om deres arbeid og inspirere til å bli en mer «bievennlig» borger.
ByBi er Oslos urbane birøkterlag og samtidig en miljøorganisasjon med fokus på biologisk mangfold.
Om vi er heldige, får vi kanskje smake litt på deres lokalproduserte honning.
DØRENE ÅPNER: 18.00
ARRANGEMENTET STARTER: 19.00
PS! Caféteateret selger blant annet pizza som man kan nyte før, under og etter filmen!
Caféteateret på Grønland, Hollendergata 8
Ta 37-bussen til Politihuset.
Kjøp billetter her: https://nordicblacktheatre.ticketco.events/no/nb/e/doc_lounge_oslo_honeyland
Selges også i døren: 80,- (50,- for studenter)
—-
ENGLISH:
In a deserted Macedonian village, Hatidze, a 50-something woman, trudges up a hillside to check her bee colonies nestled in the rocks. Serenading them with a secret chant, she gently maneuvers the honeycomb without netting or gloves. Back at her homestead, Hatidze tends to her handmade hives and her bedridden mother, occasionally heading to the capital to market her wares.
One day, an itinerant family installs itself next door, and Hatidze's peaceful kingdom gives way to roaring engines, seven shrieking children, and 150 cows. Yet Hatidze welcomes the camaraderie, and she holds nothing back—not her tried-and-true beekeeping advice, not her affection, not her special brandy. But soon Hussein, the itinerant family's patriarch, makes a series of decisions that could destroy Hatidze's way of life forever
facebook event: https://www.facebook.com/events/705744526578447/
Facebook page: https://www.facebook.com/docloungeoslo/