Nordic Black Theatre & Cafeteatret tar en for laget og holder stengt t.o.m. 13. april. 
Vi avlyser alle forestillinger, konserter, private arrangementer og andre publikumsaktiviteter. Dersom du har kjøpt billett gjennom vårt billettsystem på TicketCo vil du snart bli kontaktet og få refundert kjøpet. Dette gjelder også forestillingen «After The Dream» på Den Norske Opera og Ballett. Operaen kontakter publikum angående deres billettkjøp så raskt som mulig.
Vi beklager de ulemper dette medfører.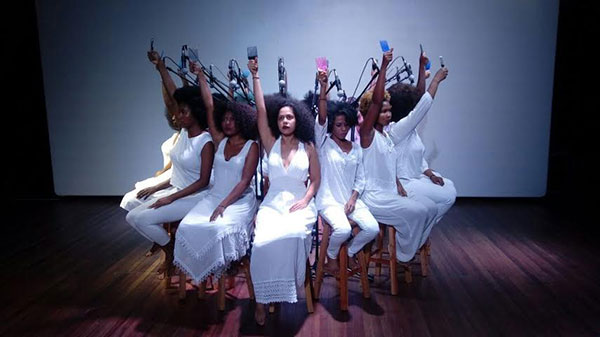 Satch Hoyt will perform Hair Combing Cycle 1530 at Nordic Black Theatre on April 4, 2020.
Satch Hoyt kommer til å fremføre performancen Hair Combing Cycle 1530 på Nordic Black Theatre 4. april, 2020.
A part of: Listening to the Echoes of the South Atlantic
February 6 – April 5, 2020
Curated by Selene Wendt and developed in collaboration with Goethe-Institut, Oslo Kunstforening and Nordic Black Theatre.
Satch Hoyt is a visual artist and musician, currently living in Berlin. His practice is related to the Transnational African Diaspora, and it is centered in the cultural and political role of sonicity. Most recently, his work has been presented, among others, in Respect: Hip Hop Style and Wisdom, Oakland Museum of California (2018); Dak'Art Biennial (2018) and Documenta 14 (2017). Recent performances include It's After the End of the World in collaboration with Annika Larsson (2019) and Hair Combing Cycle (2017). Hoyt has composed a number of songs with Grace Jones; noteworthy is 7-Day Weekend, which is on the triple platinum soundtrack album of the Eddie Murphy movie Boomerang (1992). He is currently working on three albums: Afro-Sonic Mapping; Cleopatra's Chariot with Earl Harvin; and a solo album.