Nordic Black Theatre & Cafeteatret tar en for laget og holder stengt t.o.m. 13. april. 
Vi avlyser alle forestillinger, konserter, private arrangementer og andre publikumsaktiviteter. Dersom du har kjøpt billett gjennom vårt billettsystem på TicketCo vil du snart bli kontaktet og få refundert kjøpet. Dette gjelder også forestillingen «After The Dream» på Den Norske Opera og Ballett. Operaen kontakter publikum angående deres billettkjøp så raskt som mulig.
Vi beklager de ulemper dette medfører.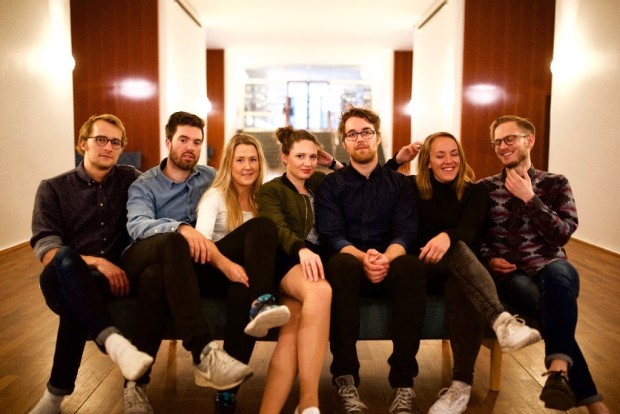 søndag 15. mars kl 20:00

Bárður Reinert Poulsen: bass, Kjetil Andre Mulelid: piano, Simon O. Albertsen: trommer, Martin Myhre Olsen: altsaksofon, Kaja Constance Rogers: fiolin, Isa Caroline Holmesland: bratsj, Kaja Fjellberg Pettersen: cello
Fotograf Eyðun Müller Thomsen
Wako with Oslo strings og plata «Modes for all eternity» er et kulturelt samarbeid mellom syv musikere med bakgrunn fra jazzlinja på NTNU i Trondheim og det klassisk utøvende miljøet i Oslo. En jazzkvartett sammen med en stryketrio. Nå får vi høre dem på Kampenjazz.
Visjonen er at musikken skal bygge broer mellom jazz og klassisk musikk. Med jazzkvartettens samspill og improvisasjon i bunnen, henter de inspirasjon fra komponister som Messiaen og Stravinskij og moderne kammerjazzprosjekter som Christian Wallumrød Ensemble og Alpaca Ensemble. Musikken består av skrevne og improviserte partier der de to ensemblene utfyller hverandre i et nyskapende og interessant lydbilde.
Jazzdans med Messiaens fugler?