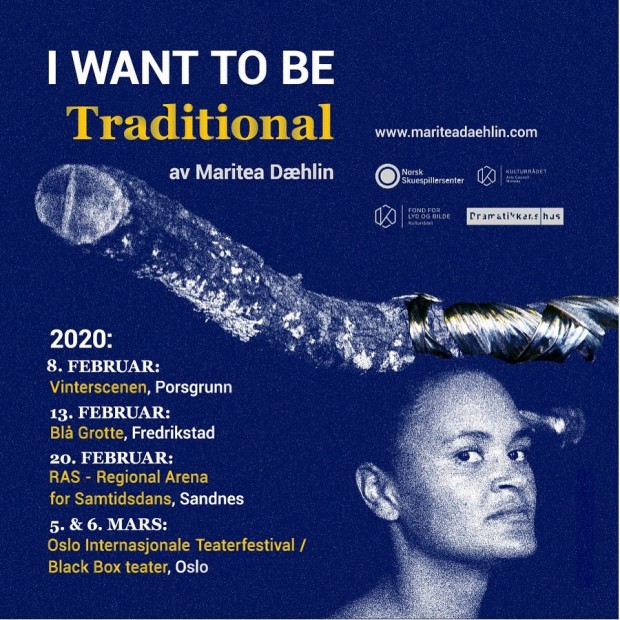 Soloforestilling som utforsker temaer som tilhørighet og identitet og vårt behov for å definere både andre og oss selv.
"Roots are trying to dig into my skin, duele, det gjør vondt, even I know they are only trying to get some nourishment, then they carry on floating away into a sea of sand eller av sukker o de sangre or of herbs without needing to grasp into one single spot. Som vanlig someone then comes and asks me where I am from y preguntan de donde soy, where my mother is from, hvor faren min kommer fra, de donde vienen mis hijos, where my phone is from, hvor katten min kommer fra. I open my mouth to answer pero solo escucho a distant echo y me doy cuenta de que no es mi voz, its not my voice, its the voice of the one who asked the question. Jeg prøver å se, I try to look them into the eyes and say that I am very typical, that my husband is very typical, that my child is very typical, que somos una familia bien tipica, tipicamente tipica y que juntos siempre tipiqueamos porque somos tipicos, that I am like you and not like them, at jeg er som dem og ikke som deg. Then Mormor, then my grandmother, then Mormor turns around og ser på meg and talks to me, in my head."
I WANT TO BE TRADITIONAL er et forsøk på å forskyve grensene for hvordan jeget kan leses som et flytende vesen som kontinuerlig beveger seg i alle retninger, og allikevel blir lest, følt, dømt, forstått, misforstått og elsket gjennom kontekster den befinner seg i.
Konsept, tekst, regi og utøver: Maritea Dæhlin
Dramaturg: Pia Maria Roll
Kostyme, rekvisitter og produksjonsleder: Ursula Lascurain
Video: Isaac Díaz Valderrama Lysdesign: Kurt Hermansen
Praktisk assistent: Soh Tokunaga Lyd: Felipe Cussen
Prosjektutvikler og visuell rådgiver: Hanne Grieg Hermansen
Outside eye: Gabriela Ottogalli Prosjektutvikler: Deise Nunes
Co-produksjon: Black Box teater og Grenland Friteater
Støttet av: Norsk Kulturfond/Kulturrådet, Fond for lyd og bilde, Dramatikkens hus og Norsk Skuespillersenter
Hjemmeside: https://mariteadaehlin.com/