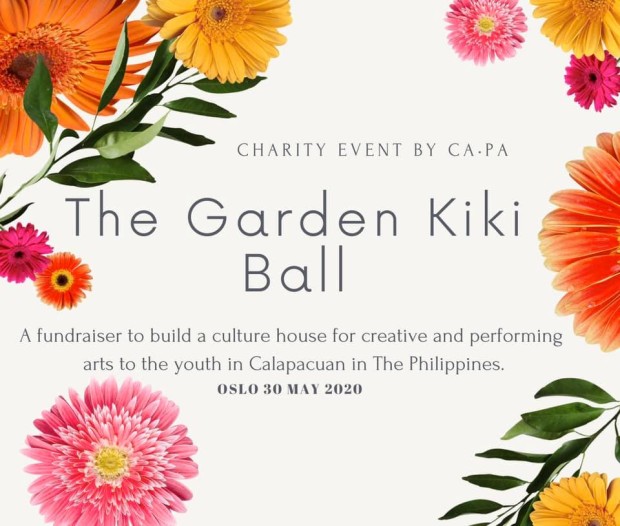 CA.PA represents:
??- The Garden Kiki Ball -??
DATE:
30th of May 2020
TIME:
Doors open 18.00
LSS starts 18.30
VENUE:
Nordic Black Theatre & Cafeteateret – Hollendergata 8, Oslo
JUDGES:
Overall Mother Noa Angels (NL)
Samara Louboutin (DM)
Nunoy Mulan (NL/FR)
Charly Mermaid (FR)
MC:
Tba
DJ:
Jackie 007
HOST:
Sunshine 007 – Gigi
CC: 150KR
All income will go directly to the organisation CA.PA to build a culture house for creative and performing arts to the youth in Calapacuan, The Philippines.
There's only 150 spots, book your ticket at: https://nordicblacktheatre.ticketco.events/no/nb
-> If you're walking take contact with Gigi ✨
Info: There will be no space for dressing room at the venue, but if needed take contact with Gigi.
IT'S ABOUT GIVING SOMETHING BACK!
———-
? CATERGORIES ?
? ALL AMERICAN RUNWAY OTA:?
Blazing Star (Liatris spicata) is a native wildflower that adds vertical drama.
Come inspired by the flower blossoms of pink or purple and serve dramatic verticals to the garden.
? EUROPEAN RUNWAY OTA:?
The black-eyed Susan (Rudbeckia hirta) may be one of the most popular wildflowers in the garden. Commonly cultivated as an attractive garden ornamental.
Serve it in yellow with a mandatory hat that reflects the brown or black flowerhead.
? DESIGNERS DELIGHT:?
Marigold (Tagetes Erecta) "Antigua Orange" is a longtime favorite with its orange pompom blooms.
Take inspiration in the flowers volume and color. Model not mandatory, but allowed.
? FACE OTA:?
Zinnia (disambiguation) is a genus of plants of the sunflower tribe within the daisy family. They are notable for their solitary long-stemmed flowers that has a variety of bright colors.
Choose the right colors to compliment your face.
? REALNESS WITH A TWIST: ?
The Blanket Flower (Gaillardia) has various shades of red, yellow, orange and peach. Some have petals surrounding a trumpet-shaped floret.
Show the judges your shades and shapes inspired by the flower.
? NEW WAY VS OLD WAY OTA:?
The western honey bees senses are adapted to signals that are emitted by flowers. They recruit other bees in their community to fly to the chosen food sources using their dances and other assistance in the field.
Serve your inner bee and its bright black and yellow effect.
? BABY VOGUE:?
Leaf beetles (Chrysomelidae) are a group of insects that form the order Coleoptera. Like other beetles, leaf beetles have shell-like wing covers, round and are a large and diverse group.
Bring out the brightly color with striped, spotted, or blotched patterns. Come with either some shiny gold, silver, or other metallic colors.
? VOGUE FEM OTA:?
Butterflies are the adult flying stage of certain insects belonging to a group called Lepidoptera that means «scaly wings» in Greek. Their wings are covered with thousands of tiny scales which are arranged in colorful designs unique to each species.
Show your butterfly wings to the judges and serve your uniqueness.
? LIP SYNC OTA:?
For your 10s choose your own song that's no longer then 3 minutes. Send it to georgiamay.anta@gmail.com
Know these 3 songs for your battles:
– ROSES – MARY J BLIGE
– ROXETTE – FADING LIKE A FLOWER
– RIHANNA – BITCH BETTER HAVE MY MONEY
? BODY MF/FF: ??(16+)
Blue can be a difficult color to find naturally in flowers. Luckily big blooms like Hydrangea offer light, sky-blue petals and irises can blossom in classic blue.
As models body or luscious body, walk your features with a hint inspired by the royal blue color.
? SEX SIREN MF/FF: ??(16+)
Roses have inspired people to develop a language by ascribing meanings to color, variety and number of roses being gifted. Traditionally, the rose is considered the flower of love.
Bring out love through your sexy red effect. Red roses is mandatory.
———-
What is CA.PA?
CA.PA is a charity organization working on the vision of sharing music, dance and creativity in Calapacuan, Subic Zambales in The Philippines. Based in Oslo, Norway and organized by Georgia May Anta.
The goal is to build a cultural center with space for music, dance and theatre for the youth in Olongapo and Subic in Manila, The Philippines. A place where children and youth can gain knowledge and experience through workshops with invited guests in the artists art form.
We want to help future generations to succeed in school while also having the opportunity to unfold in the performing arts.
So far, CA.PA has raised kr50,000. With the money we arranged an event with workshops and showcases in the village of Calapacuan, at the same time 20 students received NOK 2000 in support of school equipment.
What is ballroom?
The underground ballroom scene has it roots as far back as to the 1920 in Harlem, New York, and was created by the Black and Latin Trans women and Drags, as a new safe space due to racism they faced within the white pageant scene.
It evolved into many new categories and became not only a space for trans women of color to enjoy the safeties of community but of all queer people of color to create and express what was not allowed at the time to express in the public.
While the community is not as segregated as it used to be, we remind you that the space was created and are ruled by people of color, and we remind you that the underground ballroom scene will not accept any types of racism, homophobia, transphobia, ableism, body shaming or any types of discrimination.
Ballroom welcomes everyone and respects everyone, regardless of race, gender, ethnicity, body, sex or status. Ballroom is a place of love, unity, creativity and mutual respect.
If you are not a person of color and/or person of queer experience, we would like to reinstate that you are a guest within the ballroom community and should follow rules as everyone else.
Welcome!