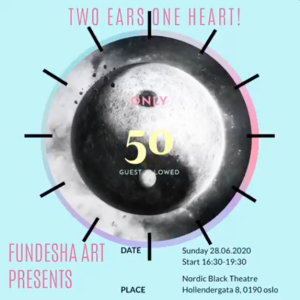 Søndag 28. juni, kl. 16:30-19:30, gratis

Facebook-event
Fundesha Art is a platform where habesha youth can develop and share their talent and passion for art. The goal is to create an open arena where artists can meet and present their art to an audience.
SMITTEVERNSREGLER
Vi følger myndighetenes smittevernsregler og sørger for en trygg konsertopplevelse.
• Billetter kjøpes på TicketCo og selges ikke i døren.
• Vi tilbyr mat (pizza) og drikke.
• Du bestiller og får servert mat/drikke ved bordet ditt. Betaling kun med kort/Vipps.
• Dørene åpner én time før konsertstart og vi anbefaler at du kommer tidlig.