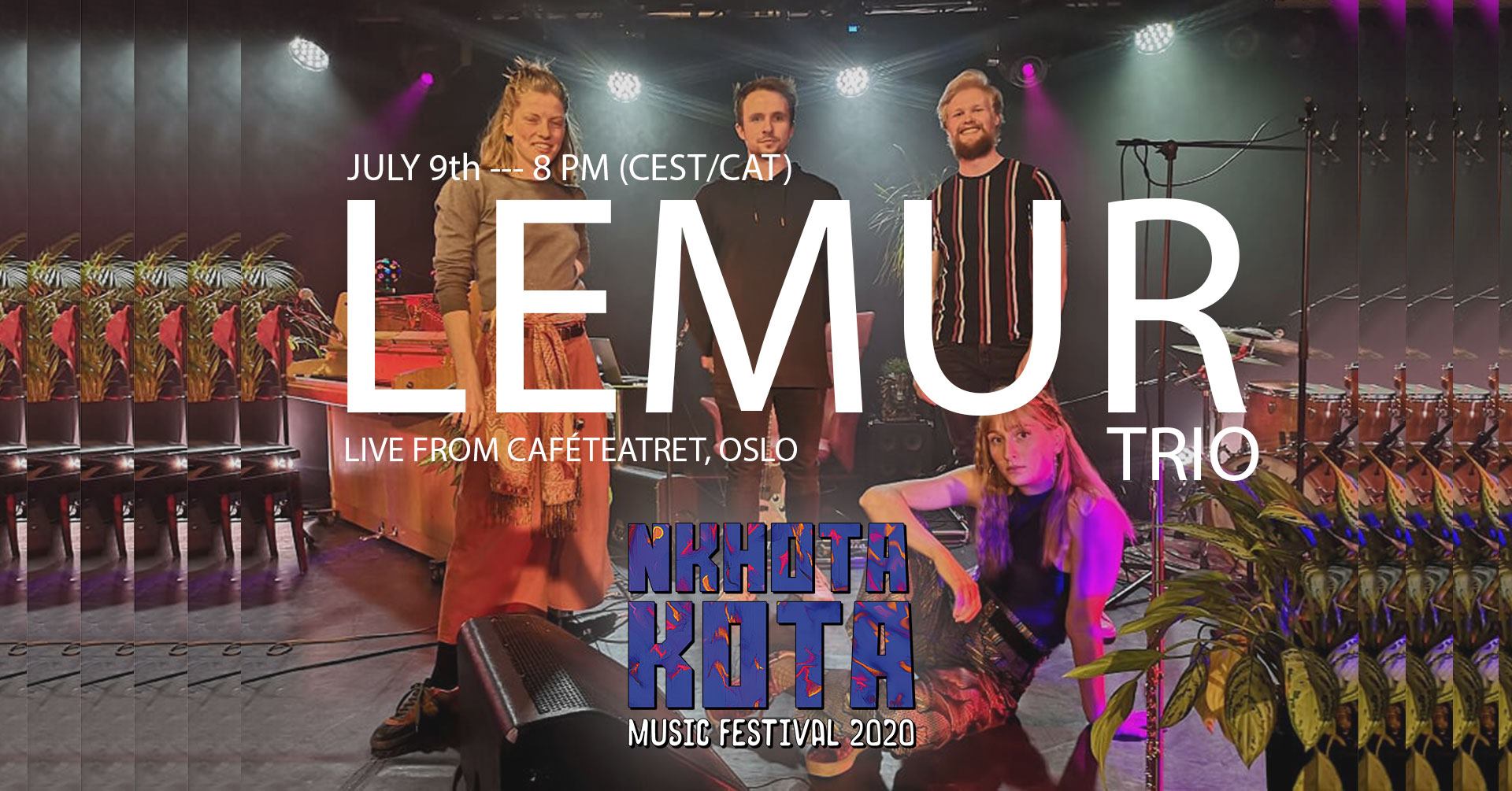 Torsdag 9. juli, kl. 20, 100 kr (+ mva.)
(Dørene åpner kl. 19:00)

Lemur Trio er en spretten, liten instrumentaltrio (+ Anita Antal for anledningen) som spiller det de selv liker å kalle «juksejazz», en miks av jazz, funk og Lo-Fi hiphop beats. Torsdag 9/7 spiller de på Nordic Black Theatre & Cafeteatret. I tillegg blir konserten livestreamet, og tilgjengelig etterpå.
Nkhotakota Music Festival er en årlig festival i Nkhotakota-distriktet i Malawi. Overskuddet fra konserten går til finansiering av neste års festival.
IN ENGLISH: Lemur Trio is a small, funky intstrumental trio (+ Anita Antal for this concert), and they play what they like to call «cheat jazz», a mix of jazz, funk and Lo-fi hiphop beats. Thursday 9th of July they're playing at Nordic Black Theatre & Cafeteatret in Oslo, Norway. If you can't join us there, the concert will be livestreamed here and available afterwards if you miss it.
Nkhotakota Music Festival is a yearly festival in the Nkhotakota district in Malawi. The income from the concert will go to next year's festival budget.
Anna Ueland – Piano
Thomas Clausen Nerstad – Bass
Lyth Bendik Hole – Drums
Anita Antal – Flute and voice
SMITTEVERNSREGLER
Vi følger myndighetenes smittevernsregler og sørger for en trygg konsertopplevelse.
• Billetter kjøpes på TicketCo og selges ikke i døren.
• Vi tilbyr mat (pizza) og drikke.
• Du bestiller og får servert mat/drikke ved bordet ditt. Betaling kun med kort/Vipps.
• Dørene åpner én time før konsertstart og vi anbefaler at du kommer tidlig.
Vi gleder oss!