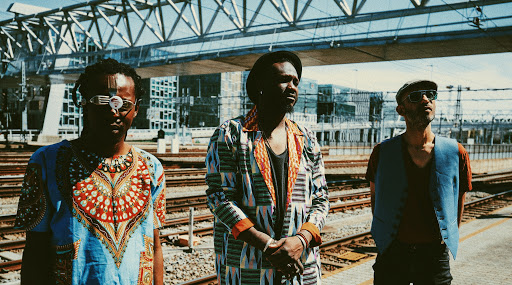 DETTE ARRANGEMENTET ER AVLYST – VI BEKLAGER.
søndag 22. november kl. 14:00
konsert med Burn For The Moon
Burn for the Moon er en trio med Mark, Bafana og Ibou  De tre fant hverandre i Oslo, og skjønte fort at de likte å lage musikk sammen. Mark hadde med en gitar han nettopp hadde kjøpt, Ibou tok med seg sin kora han hadde laget av et gresskar, mens Bafana hadde funnet masse ulike ting og tang som han kunne spille på. Første gangen de satt seg ned ble de helt overrasket over hvor fort sangene kom ut av instrumentene. Kanskje det heller var sangene som fant dem? «Musikk er med oss hele tiden» sier de i kor – «den er alltid rundt oss og i oss. Når vi sitter sammen springer musikken ut så andre kan høre den og kanskje være med?»  Sangene har røtter i Sør- og Vest Afrika, med toner og tekst fra Norge og andre land.
Ibou Cissokho – kora
Bafana Isaac Nhlapo – sang og trommer
Mark Axiak – gitar
Forestillingen er produsert i samarbeid med Samspill International Music Network og produsentene Dominic Wilson og Siri Kvambe.
dørene åpner kl. 13:00 – konsert kl. 14:00
Barnas søndag er gratis men alle må laste ned billetter
BILLETTER: https://nordicblacktheatre.ticketco.events/no/nb
SMITTEVERNSREGLER
Vi følger myndighetenes smittevernsregler og sørger for en trygg opplevelse.
• Billetter «kjøpes» på TicketCo og selges ikke i døren.
• Vi tar i mot bestillingen ved bordet ditt. Betaling kun med kort/Vipps.
• Dørene åpner én time før konsertstart og vi anbefaler at du kommer tidlig