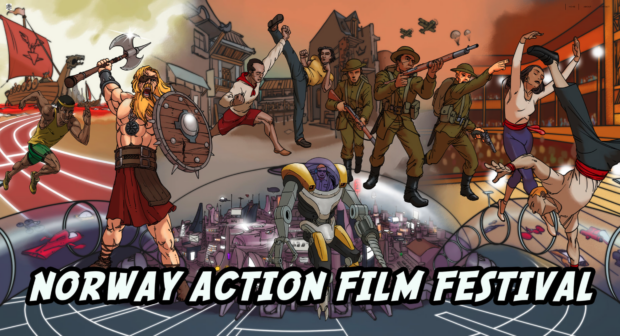 8. – 9. september kl. 17:00 – 22:00.
Free entrance but remember to book your seat by taking out a ticket.


Norway Action Film Festival er en ny festival dedikert til alle som elsker action- og eventyrfilmer. Det er en flott mulighet til å møte mennesker, dele ideer og erfaringer og nyte kunsten og kjærligheten til filmvisning. Men mest av alt er det et samfunnsfokusert arrangement til støtte for uavhengige filmskapere, både lokalt og i utlandet.
Norway Action Film Festival is a new festival dedicated to everyone who loves action and adventure films. It is a great opportunity to meet people , share ideas & experiences, and enjoy the art and love of movie-watching. But most of all, it is a community-focused event in support of independent filmmakers, both local and abroad.
PROGRAM
Onsdag / Wednesday 08. September:
Kl.17.00 – Dørene åpner / Doors open (meet and greet)
Kl.17.30 – NAFF Presentasjon / Presentation 10 min.
BLOCK 1 – 6 kort filmer /short films
Kl.17.40 – WODEN – 20:28 min.
Kl.18.28 – SOLVI – 11:33 min.
Kl.18.40 – GEMINI – 21:29 min.
Kl.19.02 – MANGER UNE VOLÉE – 07:37
Kl.19.10 – GOAT – 07:46 min.
Kl.19.18 – Deaf Samurai Apocalypse Ultra – 11:32 min.
Kl.19.30 – 1:20:38 hr.
Kl.19.30 – 20.30
NAFF Presentasjon Spesial gjest/ kampsport utstilling med Master Danny Huertas
NAFF Presentation Special guest/ martial arts exhibition with Master Danny Huertas
---
BLOCK 2 – 1 film
Kl.20.30 – MAROSH THE ULTRA SPARTAN – 52:15
Kl.21.30 – MINGLE networking.
Kl.22.00 – CLOSE
Torsdag / Thursday 09. September:
Kl.17.00 – Doors open (meet and greet)
Kl.17.15 – NAFF Presentation 15 min.
Kl.17.30 – BLOCK 3 – REDCON-1 – time 1:57:33
kl.19.30 –
Prisutdeling med spesial gjeste sangere.
Gala award with special guest singers.
kl.20.30 – MINGLE networking.
Kl.22.00 – CLOSE
---
PROJECT GEMINI
Dette er historien om en kvinnelig leiemorder som får kontrakt for å drepe en med leiemorder. Men ingen vet hvordan han ser ut, ingen har noen gang overlevd et møte.
Så i et forsøk på å komme nær nok til ham, ansetter hun ham anonymt for å drepe seg selv … så venter han bare på at han skal komme for å fullføre oppdraget hennes.
Når han dukker opp, finner hun ut at ingenting var som det ser ut.
DIREKTØRENS MERKNAD: Vennligst hold deg gjennom hele studiepoengene for å se den spennende TAG helt på slutten.
JURIDISK MERK: All musikk ble komponert og bestilt spesielt for denne filmen. Inkludert kaféscenen «The Way We Were».
JURIDISK MERK: Klippet på TV -skjermen @ 1:14 «Kiss of Death» brukt med tillatelse.
This is the story of a female assassin who gets contracted to kill a fellow assassin. But no one knows what he looks like, no one has ever survived an encounter.
So, in an effort to get close enough to him, she anonymously hires him to kill herself… then just waits for his arrival to complete her mission.
Once he shows up, she finds that nothing was as it seems.
DIRECTOR'S NOTE: Please stay through the entire credits to see the exciting TAG at the very end.
LEGAL NOTE: All music was composed & commissioned specifically for this film. Including the cafe scene «The Way We Were».
LEGAL NOTE: The clip on the TV screen @ 1:14 «Kiss of Death» used with permission.
Directed by – Isaiah Andrés Galarza
https://www.facebook.com/Geminiisineffect
---
WODEN – Let me explain to you the language of the sword
Et rykte går foran en leiemorder som lever i 2020- Folk vil tvinge ham til å jobbe for dem ved å ta sverdet sitt. Men den virkelige forbindelsen til våpenet hans overgikk alle forventninger.
A reputation precedes an assassin that lives in 2020- People want to force him to work for them by taking the power of his sword. But the real connection to his weapon exceeded all expectations.
Directed by – Thomas Hacikoglu
https://www.facebook.com/thomas.hacikoglu/
---
EATING A BEATING
Når foodie -kriminelle Ben Tull bestiller take away til lunsj, biter han av mer enn han kan tygge i form av voldelig vigilante Mathieu St Jacques! Med Tull, St Jacques og Brad Alekxis i hovedrollen serverer den korte finnen * Manger Une Volée / Eating A Beating * action og komedie, og lar deg tigge.
When foodie criminal Ben Tull orders take away for lunch, he bites off more than he can chew in the form of violent vigilante Mathieu St Jacques! Starring Tull, St Jacques, and Brad Alekxis, the short finn Manger Une Volée / Eating A Beating serves up action and comedy, and will leave you begging.
Directed by – Dany Foster
https://www.imdb.com/title/tt14629484/
---
MAROSH – THE ULTRA SPARTAN
Dokumentaren handler om idrettsutøver Maroš Kudlik og hans livsreise for å overvinne seg selv.
OVERKOMMET: å undervurdere / et par Spartan Race Series / kreft (tre ganger)
VENTER: den største livsutfordringen så langt / Spartan Race Ultra / vanskeligste hinderløype i verden
MISTE IKKE: mot / sta / humor
SAVNER: høyre bein
The documentary is about athlete Maroš Kudlik and his life journey to overcome himself.
OVERCOMED: being underestimate / a couple of Spartan Race Series / cancer (three times)
AWAITING: biggest life challenge so far / Spartan Race Ultra / hardest obstacle course in the world
NOT MISSING: courage / stubbornness / sense of humour
MISSING: right leg
Directed by – Martin Simunic
https://www.facebook.com/MaroshTheUltraSpartan/
---
SOLVI
En dansk kriger, bosatt i saksisk England, prøver å overbevise sine landsbyboere om å flykte fra hjemmene sine på grunn av trusselen om et forestående vikingangrep.
Imidlertid snur det angelsaksiske samfunnet seg selv og etterlater det splittet og forsvarsløst når vikingene kommer …
A Danish warrior, living in Saxon England, tries to convince her fellow villagers to flee their homes, due to the threat of an imminent Viking raid.
However, the Anglo-Saxon community turns on itself, leaving it divided and defenceless when the Vikings arrive…
Directed by – Joseph Archer
https://www.thefilmfestivaldoctor.com
---
Deaf Samurai Apocalypse Ultra
I en ikke så fjern fremtid. Vold og lovløshet styrer landet. I midten, et lite, nøytralt vertshus. Et knutepunkt for kjøpmenn, nomader og de skumle. Den siste bastionen av såkalt fred. Denne freden skal forstyrres når den døve samuraien en dag kommer inn i vertshuset. En legendarisk sverdmann som mange myter dreier seg om og som en dusør tilbys. Sverdmannen bestiller en drink, setter seg og legger seg. En opphetet konkurranse om dusør begynner. Bare én kan forlate vertshuset i live.
In a not so distant future. Violence and lawlessness rule the land. In the middle, a small, neutral inn. A hub for merchants, nomads and the sinister. The last bastion of so-called peace. This peace is to be disturbed when one day the deaf samurai enters the inn. A legendary swordsman around whom many myths revolve and on whom a bounty is offered. The swordsman orders a drink, sits down and goes to sleep. A heated competition for the bounty begins. Only one can leave the inn alive.
---
GOAT
Peter er arbeidsledig og bruker fritiden på å besette kampsport. Hans store forbilde er
Max Raw. Når faren en dag truer med å kaste ham, setter han seg for å bevise for faren at han er den beste.
Peter is unemployed and spends his free time obsessing over martial arts. His great role model is
Max Raw. When his father threatens to throw him out one day, he sets out to prove to his father that he is the best.
Directed by – Kenneth Gilomen
http://www.kennethgilomen.com
---
REDCON-1
Midt i en dødelig pandemi som har sett halvparten av landet i karantene, får en gruppe på åtte spesialstyrker soldater til å redde en forsker som antas å holde kuren. Oppdraget deres ser dem reise inn i hjertet av karantenesonen, og i prosessen avdekke en hemmelighet som ikke bare truer deres overlevelse, men menneskets egen.
Amidst a deadly pandemic that has seen half the country quarantined, a squad of eight Special Forces soldiers are assigned to rescue a scientist who is believed to hold the cure. Their mission sees them travelling into the heart of the quarantine zone, and in the process uncover a secret that threatens not only their survival, but that of mankind itself.
Directed by – Chee Keong Cheung
https://www.dreadcentral.com/news/229149/exclusive-carlos-gallardo-kevin-eastman-chee-keong-cheung-zombie-action-martial-arts-film-redcon-1/