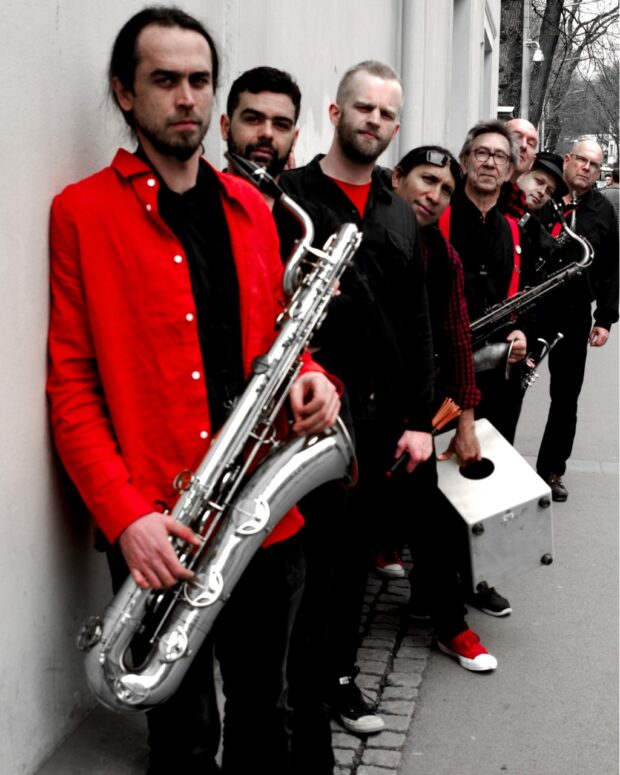 Lørdag 23. april, kl. 20:30, (dører 19:30), 200 kr / 150 kr.
Goyo records presenterer // dobbel releasekonsert:
Kinetic Brass Collective og The Pueblo & Alex
m/ Mold me with Joy (DJ).

Kinetic Brass Collective
Hva får du hvis du blander en eksperimentell frijazz-saksofonist, en galopperende pønketrommis, en følsom storbandtrompetist, en Albert Ayler-inspirert tenorsaksofonist, en meksikansk sjarmørperkusjonist, en gammal sirkushest av en korpsarrangør og en baritonsaksfonist som egentlig bare vil spille fløyte?
Kanskje du får den energiske og uforutsigbare lyden av Kinetic Brass Collective; et flerkulturelt blåserbasert jazzband som spiller variert musikk med smak av Balkan, Frankrike, Sør-Amerika og New Orleans.
Snart får du mulighet til å oppleve fenomenet selv! Kinetic Brass Collective spiller releasekonsert på Cafe Teatret 23. april 2022. Dette må du ikke gå glipp av!

Mer info – Kinetic Brass Collective
The Pueblo & Alex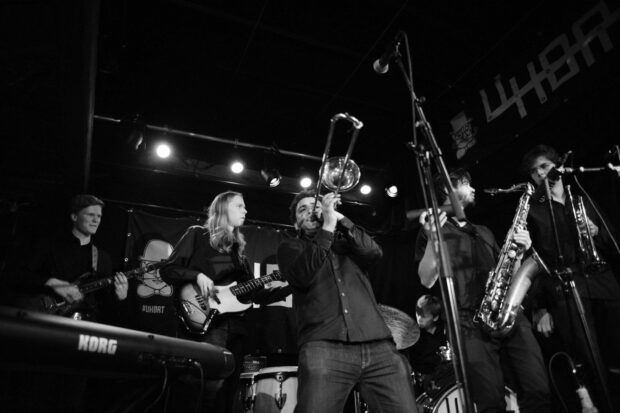 Et av Oslos mest fønky band! The Pueblo & Alex er kjent for å fremføre dansbar funk, soul, reggae og latinjazz-låter med en svært smittsomt spilleglede. Det er vanskelig å sitte stille når de spiller. Endelig, etter 5 år som liveband, er de klare til å slippe musikk. Det skal feires!

Mer info – The Pueblo & Alex

Mold Me With Joy (DJ)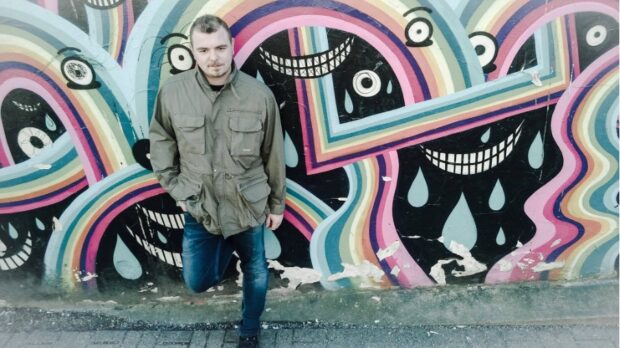 Mold Me With Joy AKA Kenan Dzanic er en kjent DJ og produsent, og mannen bak klubb- og konsertkonseptet GOYO.
Hans bakgrunn er en blanding av påvirkninger fra det avantgarde Jugoslavia, den skandinaviske klubb- og technoscenen, samt verdens fem kontinenter . Alt smeltet sammen i moderne klubbmusikk.
Han liker å blande alt fra det organiske til det eklektiske, og spiller gjerne en blanding av funky house, rå techno, fusion med et snev av sex og rytmiske låter. Det blir mye afrobeat, funk, soul og glemte retrodanseskatter inn i settene hans, for ikke å glemme dub, bass, garage og ghetto. Han overrasker alltid med kule sporvalg og ukjente særheter, og blander sømløst disse varierte lydene sammen. Stemningen på dansegulvet er alltid massiv takket være hans bunnslående beats!
Mer info – Mold me with joy