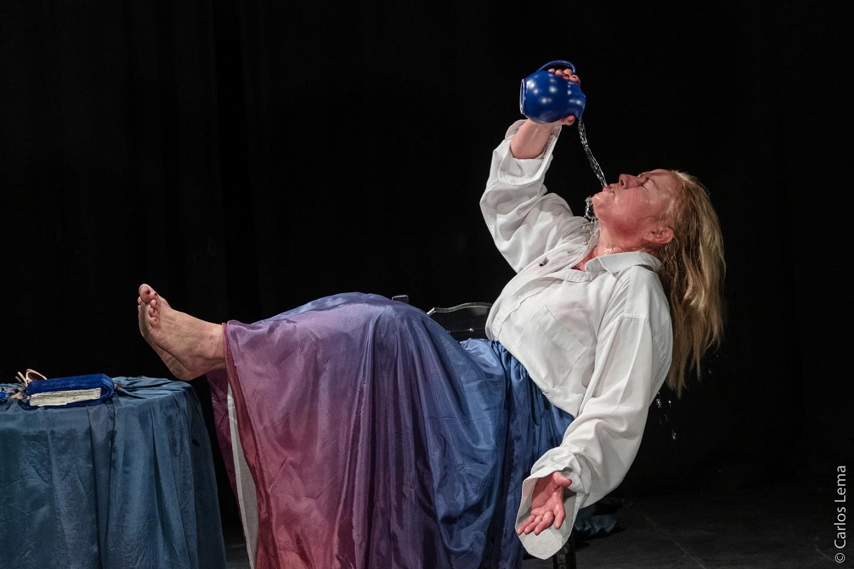 tirsdag 30. mai kl 19:30
Dørene åpner kl. 18:30
It is a one-person show created by the Cuban-Colombian actress Mérida Urquía, under the direction of the Norwegian-Danish actress Else Marie Laukvik, founder of Odín Teatret, co-produced between the Colombian group Mi Compañía Teatro and the Nordisk TeaterLaboratorium/Odín Teatret/Denmark.
The performance is in Spanish
Lasts 1 hour

It is the story of a love violently taken away by kidnapping. In 1997, in Bogotá, an intense and brief love story arises between Flora, a young poetry writer, and Julio Hollfman, a defender of the environment and human rights, a member of the Patriotic Union party. For 6 months they lived a beautiful idyll that ended tragically with the kidnapping and disappearance of Julio. Flora searches for her man throughout the Colombian geography for 10 years, when she does not find him, she goes into a poetic delirium and tries to write the perfect verse to say goodbye to a dead man. Finally, Flora decides to bury her long and suffocating mourning on the beaches of San Bernardo del Viento, a beautiful place where she planned to go with Julio , and they never went. The work ends up being an act of celebration of life in which Flora invites us to live, with that spirit of resilience that characterizes Colombian women. Parallel stories with tragic endings intertwine in the narrative, such as that of Julio Antonio Mella and Tina Modotti; Mario Calderón and Elsa Alvarado; Orpheus and Eurydice; Dulce María Loynaz and King Tut Am Amen, among other references, while the actress reveals the personal motivations that lead her to deal in the theater with the issue of forced disappearance that has hit the soul of Colombia so hard. The work questions from the feminine intimacy the criterion of eternal love, because apparently the eternal is corrupted, perhaps that is why death is the only thing that makes th ings be or seem eternal.

CREDITS GROUP:
Mi Compañía Teatro (Colombia) and Nordisk Teaterlaboratorium/Odín Teatret/Denmark).
DIRECTOR: Else Marie Laukvik
ACTRESS: Mérida Urquía
DRAMATURGY: Mérida Urquía