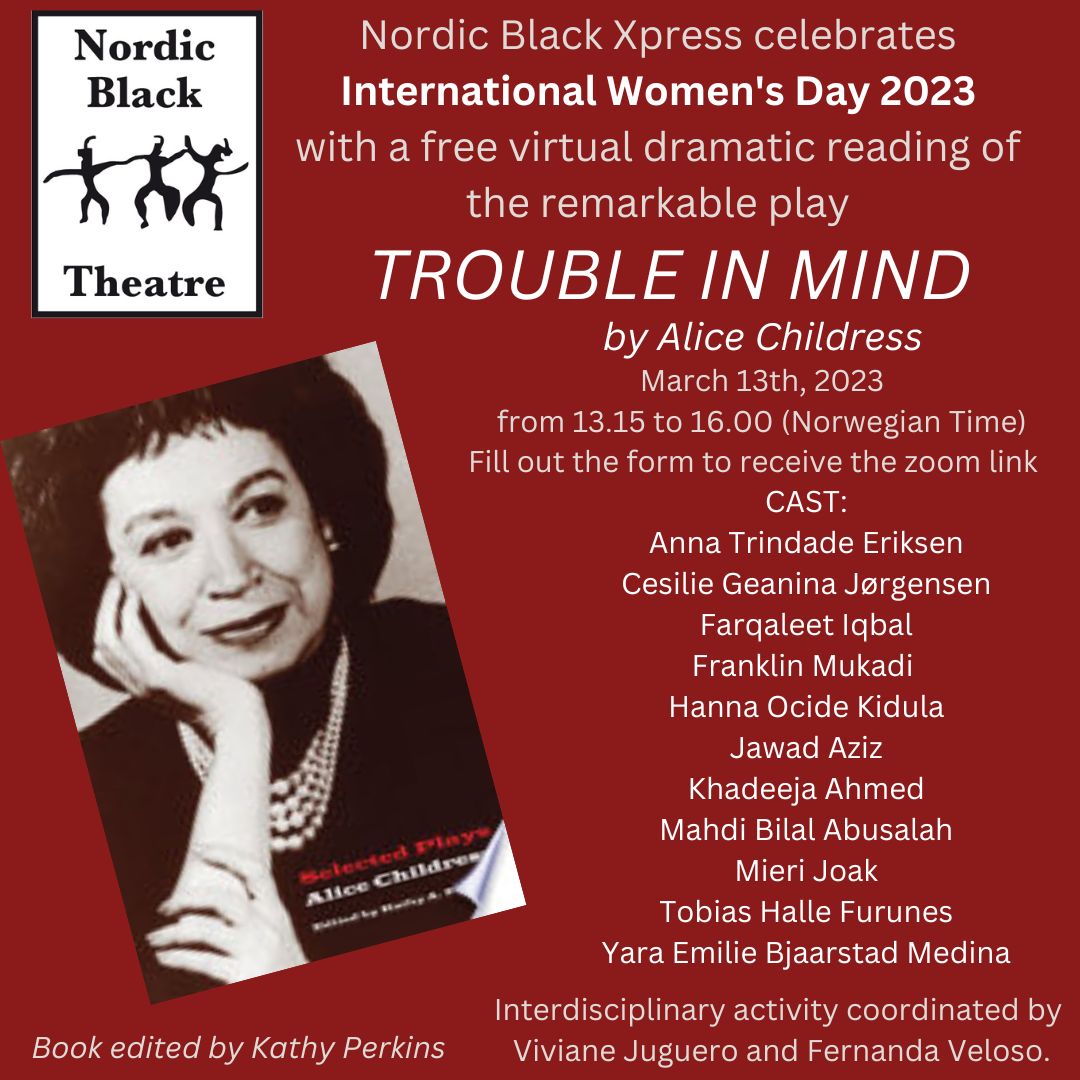 mandag 13. mars kl 13:15, Gratis
Følg instruksjoner under for zoom lenke.
Nordic Black Xpress presents
TROUBLE IN MIND


To celebrate International Women's Day in 2023, the Nordic Black Theatre's school, Nordic Black Xpress, will hold a free virtual dramatic reading of the remarkable play TROUBLE IN MIND by Alice Childress, on March 13th, 2023, from 13.15 to 16.00 (Norwegian Time).
"Trouble in Mind" is one of the most relevant plays by Alice Childress. The performance debuted Off-Broadway in 1955 and has been presented in the US and abroad for decades. However, it was released on Broadway only in November of 2021 in an impactful performance held by Roundabout Theatre Company. The play focuses on racism and sexism in American theatre through a plot that displays a group rehearsing a performance about the lynching of a Black man. Black artists lead the performance, but the director and author are white. The power relationships and the different views on the plot generate the central conflict of this thought-provoking play. "Trouble in Mind" is published in the book "Selected Plays: Alice Childress," edited by Kathy Perkins.
Alice Childress is the first African American woman to have a play professionally produced in New York City (Gold Through the Trees, in 1952). Her impressive work offers a realistic portrait of the racial inequalities and social injustices that characterized the decades between 1940 and 1960 in the US. However, her work is still highly relevant to current queries worldwide.
The NBX's virtual dramatic reading is an interdisciplinary achievement between the subjects "Studies on Dramaturgy," taught by Viviane Juguero, and "Body and Vocal Expression," taught by Fernanda Veloso.
CAST: Anna Trindade Eriksen, Cesilie Geanina Jørgensen, Farqaleet Iqbal, Franklin Mukadi, Hanna Ocide Kidula, Jawad Aziz, Khadeeja Ahmed, Mahdi Bilal Abusalah, Mieri Joak, Tobias Halle Furunes and Yara Emilie Bjaarstad Medina
How to attend the performance?
Send a message to womensday.troubleinmind@gmail.com or join our WhatsApp Group now through the link https://chat.whatsapp.com/I1LNuZWYR9DLBV7sYrf8TF. You will receive the zoom link to attend the performance some minutes before it starts.