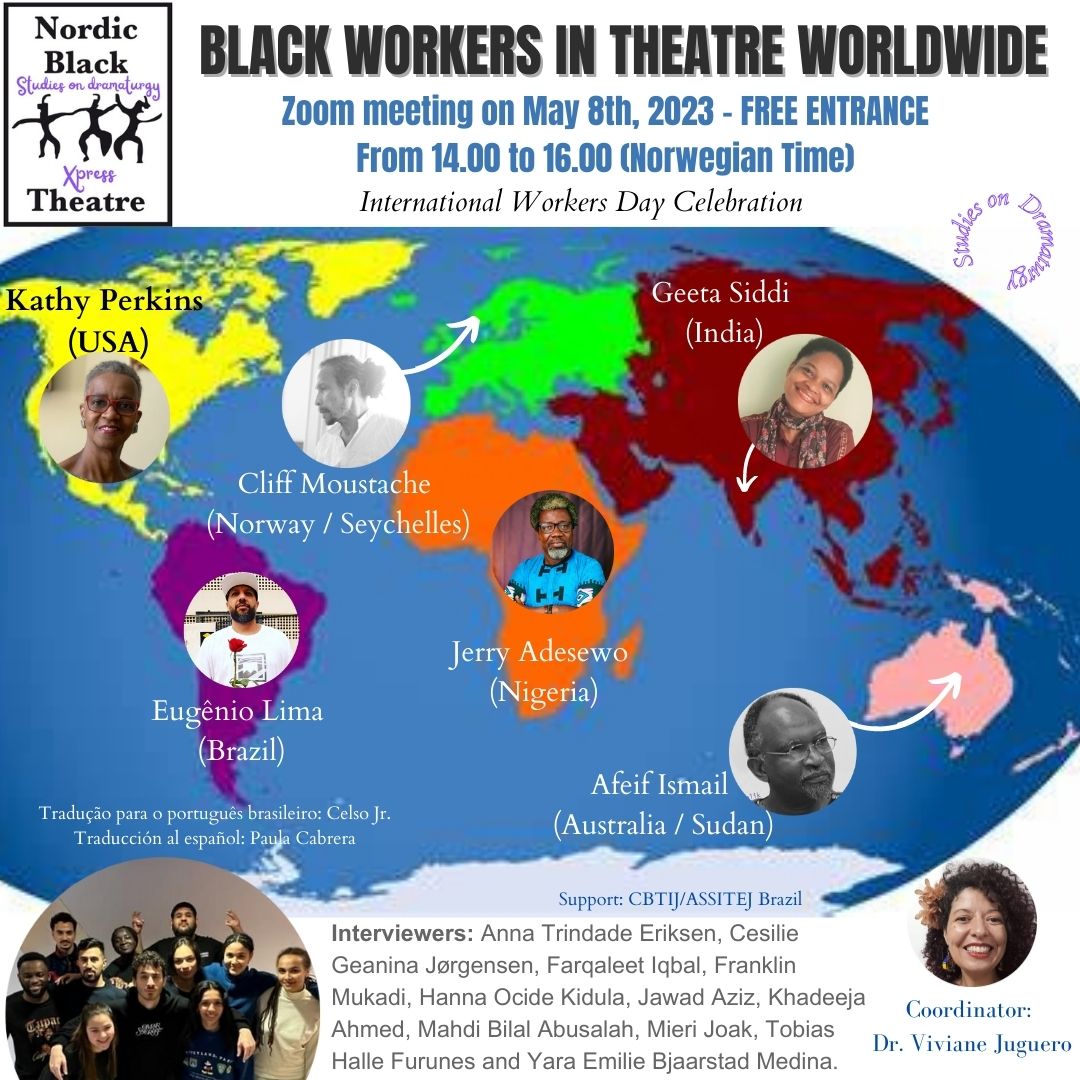 mandag 8. mai kl 14:00
Nordic Black Xpress
presents
BLACK WORKERS IN THEATRE WORLDWIDE
On May 8th, 2023 – Zoom meeting (Free entrance)
From 14.00 to 16.00 (Norwegian Time)
Join our WhatsApp Group: https://chat.whatsapp.com/I1LNuZWYR9DLBV7sYrf8TF.
Esse texto em português brasileiro / Este texto en español
To celebrate International Worker's Day in 2023, the Nordic Black Theatre's school, Nordic Black Xpress, will hold a free virtual meeting with renowned professionals from all continents worldwide (except Antarctica). The idea is to promote an opportunity for the students and the international community to get to know the work of great black professionals and reflect on the diversity of contexts, proposals, structures, and viewpoints on black art, social justice, and aesthetic democracy.
The meeting will last two hours. First, the NBX's students will introduce the invited professionals and interview them for 10 minutes each. Then, we will have an open conversation between the guests, students, audience, and the coordinator, Viviane Juguero, the teacher of the subject "studies on dramaturgy," promoting this activity. The meeting will be simultaneously translated into Portuguese, by Celso Jr. and Spanish, by Paula Cabrera.
Meeting the guests
(in their names' alphabetic order)
Afeif Ismail (Australia/Oceania: Australia / Origin: Sudan)
Afeif Ismail is a bilingual, award-winning Sudanese-Australian playwright, poet, director, dramaturg, and human-rights activist. His produced plays in Australia are " The African Magician" (nominated for an Australian Writers Guild Award in 2011 ), "Son of the Nile," "3 Seeds" and "Circles of Return." He published in many collections and was awarded the 2022 Ballina Region for Refugees Seeking Asylum Poetry Prize. Afeif has collaborated with Dr. Vivienne Glance since 2004. They received the ASSITEJ International Call for Ideas Grant due to their creative transcreation process from Arabic to English.
Cliff Moustache (Europe: Norway / Origin: Seychelles Islands)

Cliff Moustache is the founder of Nordic Black Theatre, together with Jarl Solberg in 1992. He directed over 40 plays in Norway and abroad and is considered one of the most relevant dramatists in the contemporary Norwegian Artistic Context. He was awarded the 2019 Oslo Artist prize by the Mayor of Oslo and received the Norwegian Art Council honorary award in 2020. The main focus of his work is the development of awareness and social justice through ensemble and community art.
Eugênio Lima (South America: Brazil)

Eugênio Lima is a Brazilian theatre director, Dj, Actor-Mc, and Diasporic Culture Researcher. He is a Founding Member of the theatre group «Núcleo Bartolomeu de Depoimentos [Bartolomeu Testimonial Center],» «Frente 3 de Fevereiro [February 3 Front]», and Art Director of the collective «Legítima Defesa [Legitimate Defense].» Eugênio received many artistic awards. As a curator, he has wide experience in several areas, achieving, for example, «Legitimate Defense – Poetic-Politics in Search of a Landing – Poetic elaboration, therefore political, of the image of «blackness» (São Paulo, 2017), and the anthology «Dramaturgia Negra» [Black Dramaturgy] (FUNARTE, 2019), besides many other accomplishments.
Geeta Siddi (Asia: India)

Geeta P. Siddi belongs to the Siddi tribal community of Karnataka and lives in the North Kannada district, India. She trained at the Ninasam Theatre Institute in Karnataka, a cultural institution known for fusing culture and activism with art. Geeta received her master's in performing arts in theatre and is completing her Ph.D. at Bangalore University in India. She is the first known Siddi woman to receive a Ph.D. and become a professor in Karnataka State. She teaches master students at the Folklore University of Karnataka.
Jerry Adesewo (Africa: Nigeria)

Jerry Adesewo is a theatremaker and cultural administrator. He is the Artistic Director of Arojah Royal Theatre, a household name in and beyond the Nigerian theatre space. He is currently the National Director and Publicity Coordinator of the National Association of Nigerian Theatre Arts Practitioners (NANTAP); North Central Coordinator of ASSITEJ Nigerian Centre; Board Member of International Inclusive Arts Network (IIAN); Nigerian Coordinator of the INDRA Collectives and Co-Founder/Anchor of Nigeria-Northern Ireland Cultural Exchange Platform. He is currently a 2022 Fellow of the IETM (International Contemporary Performing Arts Network) at the Global Connectors' Programme.
Kathy Perkins (North America: USA)
Kathy A. Perkins is professor emerita at the University of Illinois and the University of North Carolina. Her work as a lighting designer and researcher has taken her to more than 45 countries. In the United States, she has designed on Broadway and with numerous regional theatres. As a scholar, she has published several dramaturgy anthologies focusing primarily on African/African Diaspora women internationally. She often collaborates with educational initiatives, most recently the Nordic Black Theatre, through a partnership with teacher Viviane Juguero.
About Nordic Black Theatre and Nordic Black Xpress
The Nordic Black Theatre was founded in Oslo, Norway, 31 years ago and has been active since then, promoting performances, discussions, and education. Its political stance is developed through aesthetic creations committed to empowering underrepresented people, voices, cultures, and viewpoints, promoting awareness and social transformation within the diversity of the Norwegian Society in dialogue with the world. In addition, for more than twenty years, the school Nordic Black Xpress has been offering scholarships and technical training to diverse students with foreign origins in their families, supporting the appearance of great professionals in the artistic field. The Norwegian Ministry of Culture sponsors the Nordic Black Theatre and School.
Interviewers: Anna Trindade Eriksen, Cesilie Geanina Jørgensen, Farqaleet Iqbal, Franklin Mukadi, Hanna Ocide Kidula, Jawad Aziz, Khadeeja Ahmed, Mahdi Bilal Abusalah, Mieri Joak, Tobias Halle Furunes and Yara Emilie Bjaarstad Medina.
Coordinator: Dr. Viviane Juguero https://www.vivianejuguero.com/
How to attend the meeting?
Join our WhatsApp Group now through the link https://chat.whatsapp.com/I1LNuZWYR9DLBV7sYrf8TF. You will receive the Zoom link to attend the performance some minutes before it starts.

Translation into Brazilian Portuguese: Celso Jr.
Celso Jr. is an actor and theater director. Professor at CECULT (Center for Culture, Languages ​​and Applied Technologies) at UFRB (Federal University of Recôncavo da Bahia). He is a researcher in the field of ​​Contemporary Play Writing, History of the Theater and Theater Improvisation.
Translation into Spanish: Paula Cabrera
Paula Cabrera is a writer and translator with a Ph.D. in Spanish Letters and Literature. She lives in Rio Grande do Sul and is researching the theater of women from the Spanish 27th generation silenced by Francoism.
Disclosing and organization support: CBTIJ / ASSITEJ Brazil