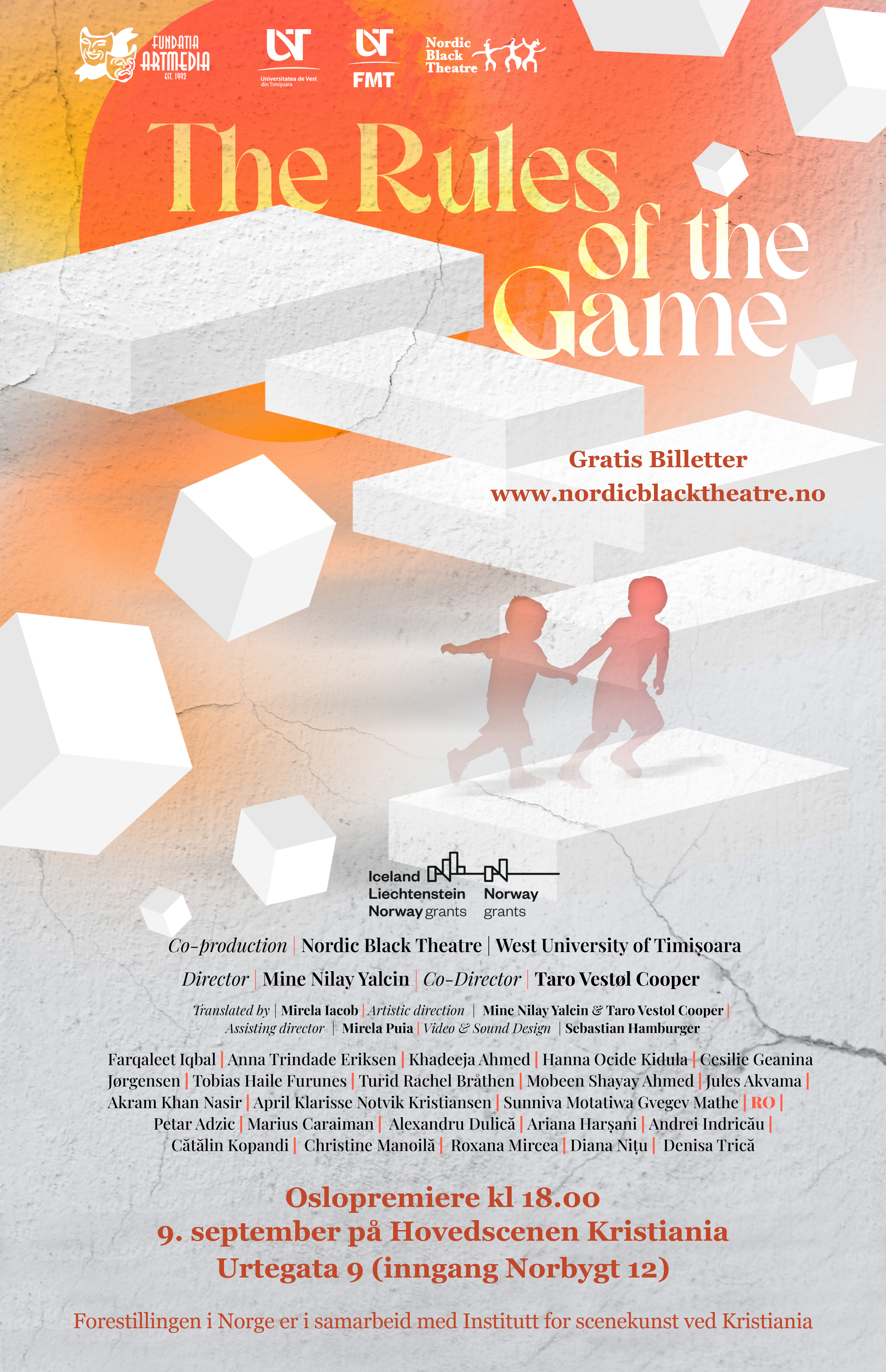 lørdag 9. september kl 18:00, Gratis
OBS! Spilles på Hovedscenen Kristiania, Urtegata 9 (inngang Nordbygt. 12).
The Rules Of the Games – av Yann Verburgh
Regi: Mine Nilay Yalcin & Taro Vestøl Cooper
The Rules Of the Games av Yann Verburgh– en forestilling med regi av Mine Nilay Yalchin og medregissør Taro Vestøl Cooper. På scenen står 10 studenter fra Fakultet for musikk og teater i Timisoara sammen med 12 studenter fra Nordic Black Xpress i Oslo.
Premiere er 5. september kl 20:00 på Ungarsk Statsteater i Timisoara , Romania som en del av prosjektet Sunlight Young Festival. Forestillingen spilles deretter i Oslo på Hovedscenen til Kristiania lørdag 9. september kl 18.00, i et samarbeid med Institutt for scenekunst ved Kristiania
Premieren i Timasoara 5. september spilles for fullt hus – alle billetter revet bort.
Forestillingen er produsert av Fundatia Artmedia, Universitatea de Vest din Timișoara og Nordic Black Theatre.
I krigslandene blir du født som soldat. Du lærer å kjempe siden du lærer å gå. Det er obligatorisk å bære et våpen …», et våpen produsert i Fredens land.
Inspirert av tragediene forårsaket av den syriske borgerkrigen – som brøt ut i 2011, i sammenheng med den arabiske våren – er The Rules of the Game en dristig historie om virkningen av væpnede konflikter på unge generasjoner.
Som Solen og Månen eksisterer samtidig, ser det ut til at krigsstatene og fredsstatene alltid har eksistert i vår verden, før alle tider. Nama og Oldo, to barn, ofre og også overlevende fra den siste av de siste krigene, møtes på ruinene av en by, forteller sine livshistorier og begynner lekende en plan for å endre spillereglene i et samfunn med også lite magi og egenkapital for et barn. En skole åpen for alle, gigantisk svømmebasseng med sklier, gratis måltider servert på restauranter, grønnsakshager på tak, fuglehus, friskluftplante, musikk, sang og dans for alle. Men fantasispillet varer ikke særlig lenge, og 5000 dager og avstanden griper inn i drømmene til de to barna. Nama drar til Statene-freden, mens Oldo blir i landet sitt. I løpet av denne tiden vil livene til de to endre seg, men ikke det vanlige ønsket i deres hjerter: en verden uten kriger.
Kunstnerisk ledelse | Mine Nilay Yalcin & Taro Vestol Cooper
Oversettelse | Mirela Jacob
Video- og lyddesign | Sebastian Hamburger
Assisterende direktør | Mirela Puia
Skuespillere:Studenter fra Nordic Black Xpress i Oslo:Farqaleet Iqbal, Anna Trindade Eriksen, Khadeeja Ahmed, Hanna Ocide Kidula Cesilie Geanina Jørgensen, Tobias Haile Furunes, Turid Rachel Bråthen, Mobeen Shayan Ahmed, Jules Akvama. Akram Khan Nasir, April Klarisse Notvik Kristiansen, Sunniva Motatiwa Gvegev Mathe
Studenter fra Fakultet for musikk og teater i Timisoara: Petar Adzic, Marius Caraiman, Alexandru Dulică, Ariana Harșani, Andrei Indricău, Cătălin Kopandi, Christine Manoilă, Roxana Mircea, Diana Nițu, Denisa Trică.
The Rules Of the Games er en del av prosjektet Sunlight Young Festival, et bilateralt initiativ finansiert av EØS og Norway Grants, en del av finansieringsprogrammet for Timisoara, Europeisk kulturhovedstad 2023.
The play is in English.