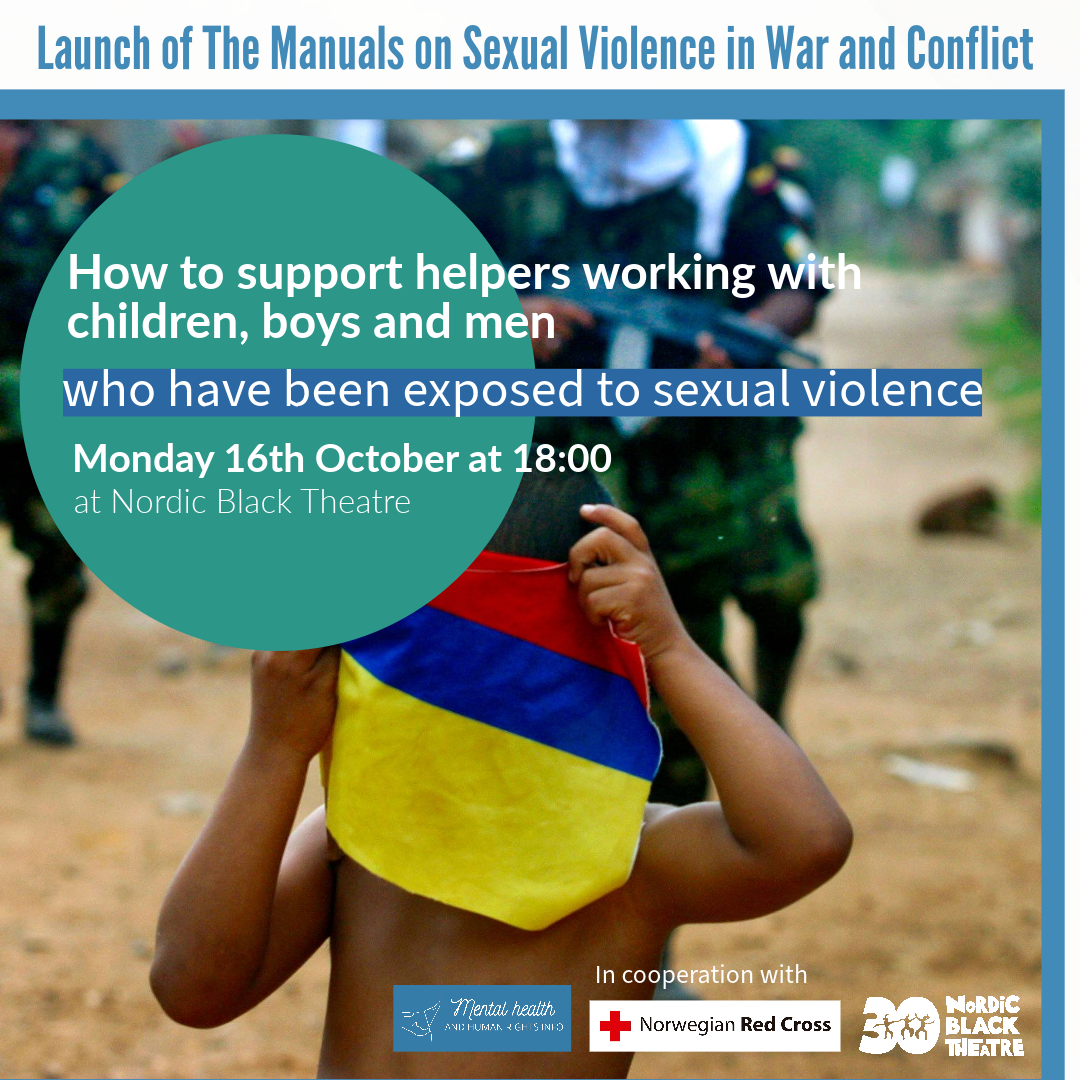 mandag 16. oktober kl 18:00, Gratis, men husk å hente ut fribillett
Dørene åpner kl. 17:30
We are pleased to invite you to the official launch of our handbooks: «Sexual violence against Children in war, conflict, humanitarian crisis and low resource communities» and «Sexual violence against boys and men in War, conflict and migration».
After several years of working with the manual on sexual violence against women in war and conflict situations, we at MHHRI are proud to introduce these two new manuals. These manuals represent an important tool for helpers and caregivers working with children, boys, and men who have survived sexual abuse in war, conflict, humanitarian crises, and contexts with limited resources.
Our aim with the manuals is to provide practical guidance for helpers on how best to support and help boys, men, and children who have experienced sexual violence in various challenging situations. The manuals deal with different aspects of these topics, how traumatic events affect the mental health of those exposed, as well as practical approaches and tools that can be used to meet their psychological needs.
Our new manuals are available in multiple languages, including English, Nepali, Ukrainian, and Spanish. We are continuously working on translating them into more languages in order to be able to reach even more helpers in more countries.
ATTENTION: The event is free, to attend you must have an entry ticket, as soon as possible we will post the link so you can get a ticket.
//////////////////////////////////////////////
Guests
Moderator: Nora Sveaass: is a clinical psychologist and professor emeritus at the Department of Psychology, University of Oslo (UiO).
Helen Christie: is a clinical psychologist, special adviser and former director at RBUP East and South – Regional Center for Children and Young People's Mental Health.
Cliff A. Mustache: is a Norwegian playwright, theater director, and artistic director at the Nordic Black Theater in Oslo.
Maria Carolina: is a regional Adviser for Addressing Sexual Violence in the Americas, Central and South America.
Charu Lata Hogg: is the founder and Director of All Survivors Project, an international NGO headquartered in the U.K. and Liechtenstein which works to address conflict-related sexual violence against men and boys globally.
Are Saastad: has a background as a psychiatric nurse and as a trade union representative, has been employed in several voluntary organizations and has led Reform since 2012. Equality policy and boys' and men's health challenges are Are's special fields.
Wael Jaohar: is a 29-year-old actor from Oslo. He has been in the film «Han» (2020), and street theater «Sirkus Grønland» (2021). Jaohar represented one of the characters in the play Hidden Scars directed by Cliff Mustache in 2022.
Carlos Aranguiz and Luis Sucari: troubadours from Peru and Chile, music from the veins of Latin America, their repertoire reflects the harsh reality and experiences of the Latin American People.
////////////////////////////////////////////
Program
17:30 – 18:00: Prosecco/wine and Public arrival
18:00 – 18:10: Performance extract from the play Hidden Scars, by Wael Jaohar
18:10 – 18:15: Welcome from MHHRI
18:15 – 18:25: Presentation of the Red Cross report, "That Never Happens Here" by Maria Carolina Aissa
18:25- 18:35: Introduction of the children's manual by Helen Christie
18:35 – 18:45: Introduction of the boys and men manual by Nora Sveaass
18:45 – 18:50: Music performance by Carlos Aranguiz and Luis Sucari
18:50 – 19:35: Panel
19:35 – 19:50: Q&A panel
19:50 – 19:55: Music performance by Carlos Aranguiz and Luis Sucari
19.55 – 20:00: Final Words by Nora Sveaass
///////////////////////////////////////////
For more information click here:
https://www.hhri.org/new2023/news/launch/