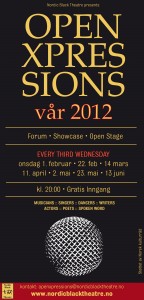 Open Xpressions på Cafeteatret er rett og slett en av det mest positiv, dynamisk og spennende åpen scene i Norge.
På Cafeteatret kommende onsdag:
kl. 19:00
FORUM FOR ARTISTS med Frifond
http://www.facebook.com/events/128050887321286/
kl. 20:45
Showcase artister – utvalgt artister på scenen / invited artists on stage
kl. 21:30
Åpen Scene / Open Stage!
kl. 00:30
ferdig! / done!
Open Xpressions is free entrance and open for all ages. It is usually very full! Please arrive early to secure your entrance!