Nordic Black Theatre i samarbeid med Den Norske Operaen & Ballet presenterer:
The Legends – Bob Marley & Peter Tosh Concert-Theatre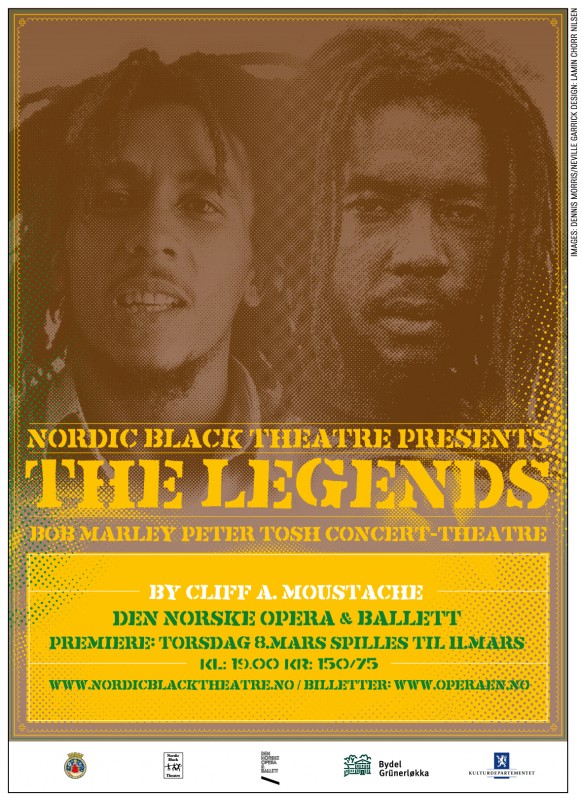 Premiere: torsdag 8. mars 2012
spilles også fre 9. mars, lør 10. mars og søn 11. mars
kl. 19:00
billetter: kr 150/75 – kjøpes her 
(scroll down for English)
Musikken og livet til Bob Marley og Peter Tosh fortelles i en musikalsk teaterforestilling med dans, bilder og live band på scenen. Hvordan klarte de to å ikke bare overlever knusende fattigdom, men å reise seg ut av det og bli internasjonale ikoner?  Forestillingen tar publikumet med til Trenchtown, West Kingston hvor Marley og Tosh vokste opp med håpet om å få gjennombrud i musikkbransjen.  Når gjennombruddet kom, måtte de fortsatt navigere seg igjennom utnyttelse, fordommer og impressarios med skjult agenda.  Gjennom det hele leverte de en oppløftende budskap av One Love, Equal Rights og Rastafari.  Musikken deres er elsket av flere generasjoner i alle verdensdeler. Forestilling fletter sammen deres livshistorie med de mest kjente låter for å vise at musikken, budskapet og legendene lever fortsatt!
Marco DeVega (aka RAW) kjent fra TV Norges 'Norske Talenter', spiller Bob Marley og Peter Tosh er spilte av profilerte Sør Afrikanske musikker Bafana Nhlapo.
 Billetter kan kjøpes fra operaens webside – klikk her
Operaen webside: www.operaen.no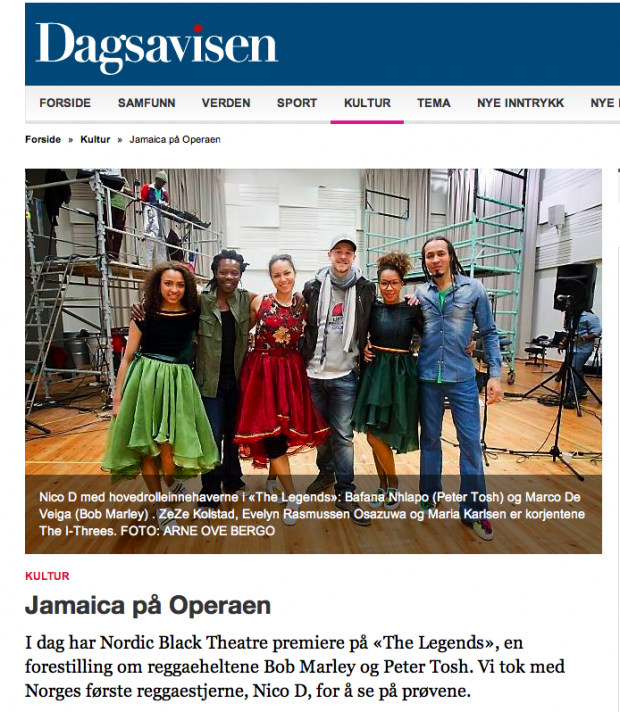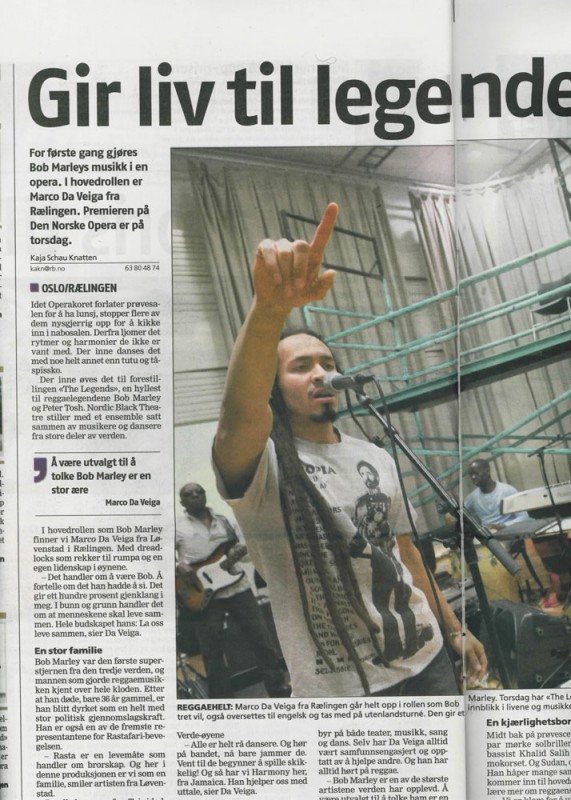 fra Romerike blad tirs 6. mars 2012
English:
The Legends – Bob Marley & Peter Tosh Concert-Theatre
Premiere: Thursday 8th March
also: Friday 9th, Saturday 10th, Sunday 11th March
at 7pm
tickets: kr 150/75
The life and music of Bob Marley and Peter Tosh live on stage at the Norwegian Opera House! The Legends is an original concert-theatre piece with music, dance, images and a full live band on stage. How did Marley and Tosh not only survive crushing poverty but manage to rise up out of it to become international icons?  The performance takes us to Trenchtown, West Kingston where Marley, Tosh and the living Wailer, Bunny grew with the hope of a breakthrough in the music business.  When the breakthrough came they still had to struggle with exploitation, prejudice, politics and businessmen with hidden agendas.  Through it all they delivered a message of One Love, Equal Rights and Rastafari.  Their music and message is now love by generations all over the world.  «The Legends» blends their life stories with some of their best known songs to prove that the music, message and legends live on!
Tickets are available from the Opera website – click here
Opera website: www.operaen.no
Cast/Besetning:
Bob Marley – 
Marco da Veiga
Peter Tosh – Bafana Nhlapo
Maria Karlsen
Clifton Harrydass – Keyboard
Mouctar Doumbouya – perkusjon
Manus og Regi: Cliff A. Moustache
Koreograf & regi assistent: Bright Wamwanduka
Scenograph: Karen Schønemann
Costume: Rhodah Nalumansi
Projection: Paulucci Araújo Bakke
Kunsternisk konsulent: Dave 'Harmony' Barnett
PR: Dominic Wilson 
Produsent NBT: Jarl Solberg