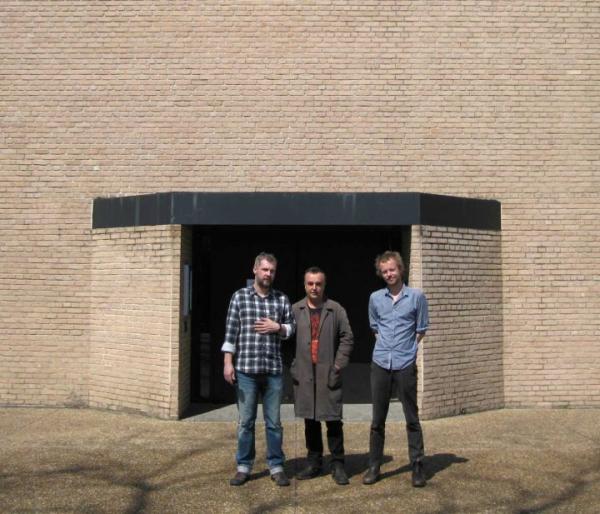 SØNDAG 4. NOVEMBER KL 20:00
MURAL 
Jim Denley (Australia), Kim Myhr (Norway), Ingar Zach (Norway).
MURAL's lush and inviting sound-world incorporates a wide range of percussive, harmonic, and timbral effects and suggests the vastness and mystery of time.
The 28-year-old guitarist and composer Kim Myhr is a resident of Oslo, Norway and studied at Berklee College of Music in Boston from 2003 to 2005.  Since then he has embarked on an international career, performing new contemporary and improvised music throughout Europe, Australia, Japan, Canada, and the United States.  In 2008, he received the JazZtipend (a cash prize of approximately $30,000) at the Molde International Jazz Festival, one of the oldest jazz festivals in Europe, where he will return to the festival in July 2009 with a new piece for an ensemble of thirteen musicians, which includes Ingar Zach and Jim Denley.   Myhr has described his new composition as having "fragments and figures that he would like the orchestra to work with" and offering the opportunity for "spontaneous interaction and collective solutions."
Jim Denley is considered one of Australia's foremost improvisers of new music.  He was born in 1957 in the town of Bulli, New South Wales.  He began playing violin at age 5, then took up piano, and by age eleven was playing flute.  He studied the instrument at the NSW Conservatorium, and after leaving school played jazz and commercial music to earn a living.  By the late 1970s he was composing music, and a decade later he began working in an improvisational mode and to integrate his voice into his instrumental work.  Also in the 1980s he studied the shakuhachi flute music of Japan, whose style places a great emphasis on the momentary and the moment.  Denley has worked extensively in Great Britain and Europe, and while much of his work is collaborative, he has also performed as a soloist throughout his career.
Ingar Zach, born in 1971 in Oslo, is one of Norway's most recognized percussionists, and has participated on almost fifty CD-releases. He is the leader of the acclaimed quartet "Dans les Arbres", whose recent ECM-release made the WIRE magazine write: "Dans les arbres must be one of the finest ECM Improv releases – indeed, releases from any label – in recent years."  Zach studied musicology at the University in Oslo, and held a residency at the Royal Music Academy in Stockholm, Sweden, where he developed his interest in improvisation.  In 2003 he was awarded a master of Chamber Music from Oslo's Music Academy, where his was the first master's ever given in Norway for an all-improvised repertoire.  Zach is known for his wide range of percussion sounds and his innovative instrumentation.  He has performed in major festivals throughout Europe, the United States, and Canada