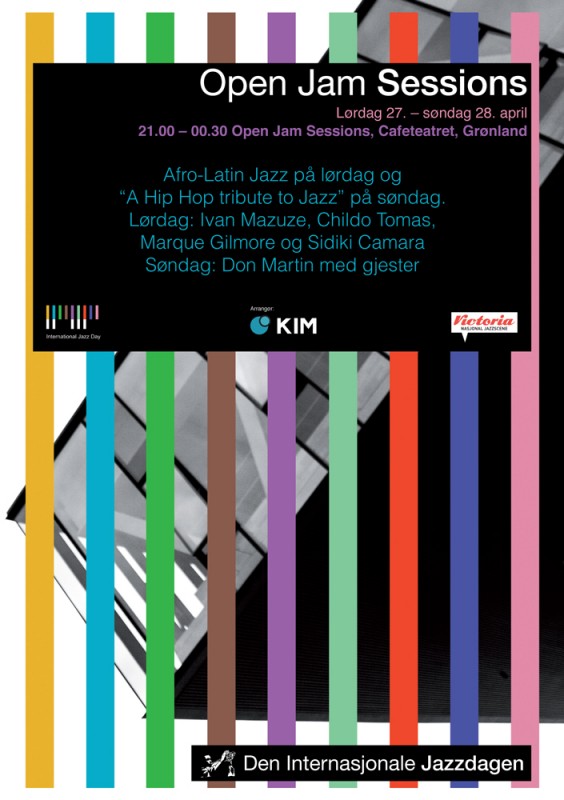 International Jazz Day er på 30. april, Kontaktutvalget mellom innvandrerbefolkningen og myndighetene (KIM) synes en dag var for lite og har satt i gang en rekke arrangementer fra 26. – 30. april!
Hele program kan leses under – på Cafeteatret blir det: Open Jazz Jam Sessions
lørdag 27. april – Afro latin jazz improvisation – med Ivan Mazuze, Childo Thomas, Marque Gilmore og Sidiki Camara
søndag 28. april –  "A Hip Hop tribute to Jazz" med Don Martin & Gjester!
kl. 21.00 – 00.30 begge dager 

*GRATIS INNGANG*
INTERNATIONAL JAZZ DAY 
Den Internasjonale Jazzdagen 
Jazz, politikk og kulturell identitet 
UNESCOs generalforsamling besluttet enstemmig i november 2011 at 30. april skal markeres som Den Internasjonale Jazzdagen. UNESCO ønsker at markeringen skal åpne opp for samhandling og dialog om kulturell identitet, fred og felleskap på tvers av sosiokulturelle, etniske og religiøse skillelinjer.
Kontaktutvalget mellom innvandrerbefolkningen og myndighetene (KIM) følger opp oppfordringen fra UNESCO og arrangerer et 5-dagers program med jazz workshops, Open Jam Sessions, seminarer og konserter. Tema for årets markering er Jazz, politikk og kulturell identitet. 
I forbindelse med stemmerettsjubileet, som sammenfaller med markeringen av femtiårsjubileet for den amerikanske borgerrettighetsbevegelsen i mange amerikanske sørstatsbyer, ønsker KIM å belyse jazzens betydning som en drivkraft for samfunnsendring og kulturell utfoldelse.
Jazzen har vært et viktig virkemiddel fort å fremme forsoning og felleskap i et samfunn preget av store motsetninger, og musikken tonesatte den amerikanske borgerrettighetskampen i USA. Den har inspirert aktivister for kvinners rettigheter, og for frigjøringsbevegelser over hele verden.
Blant deltakerne på markeringen er professor Ingrid Monson fra Harvard University, som vil holde foredrag om flere temaer, deriblant om kvinnelige jazzmusikeres betydning for likestillingskampen, og om jazzens betydning for kulturell identitet og tilhørighet. Justin DiCioccio og Steve Wilson fra Manhattan School of Music er verdenskjente musikere, "Jazz clinicians" og instruktører med ansvar for å lede og koordinere det kunstneriske programmet og planlagte jazz workshops.
PROGRAM 
Fredag 26. april
18.00 – 23.00 Open Jam Session på Victoria – Nasjonal jazzscene 
Scenen står ferdig rigget med piano, trommer og forsterkere, og det inviteres til en uhøytidelig jam over alle sjangergrenser! Gjesteartister er Steve Wilson og Justin DiCioccio fra USA.
Lørdag 27. – søndag 28. april 14.00 – 20.00 Jazz workshop, Øvingshotellet. 
21.00 – 00.30 Open Jam Sessions, Cafeteatret, Grønland 
Afro-Latin Jazz på lørdag og "A Hip Hop tribute to Jazz" på søndag.
Mandag 29. April
10.00 – 12.00 Forelesning med Ingrid Monson – Lillestrøm Videregående skole 
"The Changing Same – Jazz, Cultural Identity, and Tolerance
Tirsdag 30 april
12.30 – 15.30 Seminar – IMDi, Tollbugata 20 
Tema: "The Jazz Imagination and Globalization in the 21st Century." 
Den musikalske nytenkningen fra Afro-Amerikanere med store tanker om frihet, åndelighet og politisk engasjement har hatt et stort nedslagsfelt over hele verden. Påvirkningen fra Afrikansk sang- og musikktradisjon ligger fortsatt sterk i jazzen, men vi ser hele tiden eksempler på en stadig utviklende sjanger, hvor folkemusikk og andre uttrykk fjærlett tas inn, utvikles og inspirerer på sin reise rundt jordkloden. Med eksempler fra Europa, Sør Afrika, Asia og Karibia ser vi hvordan fantasien, kreativiteten og improvisasjonen innen sjangeren lever i dag.
19.00 – 24.00 Konsert – Feiringen av Den Internasjonale Jazzdagen 3
Artistic Director and workshop leader 
Justin DiCioccio 
Justin DiCioccio is internationally recognized as one of the foremost jazz educators of our time. In January 2001, he was inducted into the Jazz Education Hall of Fame. In 2011, Mr. DiCioccio was named Associate Dean, Jazz Arts Program of Manhattan School of Music. He has put into action his concept of the complete artist-musician—performer, composer, and pedagogue – by developing partnerships with public schools, community organizations, cultural institutions, and the music industry. Mr. DiCioccio also directs international jazz programs, in partnership with Manhattan School of Music.
Mr. DiCioccio has served as program director and clinician for Carnegie Hall Jazz Education and acts as a consultant to Jazz at Lincoln Center and Wynton Marsalis. He designed, developed, and directed the award-winning LaGuardia High School of the Arts jazz program, the first fully accredited secondary jazz program in the United States. Mr. DiCioccio is a three-time recipient of the Presidential Scholars teaching recognition award by the U.S. Mr. DiCioccio is a former member of the Rochester Philharmonic and for five years was a member of the Marine Band "The President's Own," in which he served as the official White House drummer. Mr. DiCioccio's has performed with Arturo Sandoval, Randy Brecker, Chuck Mangione, Phil Woods, Stan Getz, Red Rodney, and Clark Terry.
Guest Artist and Workshop leader 
Steve Wilson 
Steve Wilson is an American jazz multi-instrumentalist, who is best known in the musical community as a flautist and an alto and soprano saxophonist. He also plays the clarinet and the piccolo. Steve Wilson has attained ubiquitous status in the studio and on the stage with the greatest names in jazz, as well as critical acclaim as a bandleader in his own right. An in-demand and passionate educator, Wilson has held teaching positions in several schools and Universities, as well as holding jazz clinics.
A musician's musician, Wilson has brought his distinctive sound to more than 100 recordings led by such celebrated and wide-ranging artists as Chick Corea, George Duke, Michael Brecker, Dave Holland, Dianne Reeves, Bill Bruford, Gerald Wilson, Maria Schneider, Joe Henderson, Charlie Byrd, Billy Childs, Karrin Allyson, Don Byron, Bill Stewart, James Williams, and Mulgrew Miller among many others. Wilson has seven recordings under his own name, leading and collaborating with such stellar musicians as Lewis Nash, Carl Allen, Steve Nelson, Cyrus Chestnut, Greg Hutchinson, Dennis Irwin, James Genus, Larry Grenadier, Ray Drummond, Ben Riley, and Nicholas Payton. 4
Keynote speaker and panelist 
Ingrid Monson 
Ingrid Monson is Quincy Jones Professor of African American Music at Harvard University, where she is a joint appointment in the departments of Music and African and African American Studies. She is a noted jazz scholar and ethnomusicologist with a lifelong interest in the relationships between music, race, aesthetics and politics.
Her most recent book Freedoms Sounds: Civil Rights Calls Out to Jazz and Africa addresses these issues in the jazz world of the 1950s and 1960s. She is also author of Saying Something, which addresses the interactive and communal dimensions of jazz improvisation as a musical process. She has been awarded many honors including most recently a Guggenheim Fellowship, a Radcliffe Institute Fellowship, and a Stanford Humanities Center fellowship.
She is currently working on a book about virtuosic Malian balafonist Neba Solo, entitled Kenedougou Visions and a series of essays on aesthetics and the body. Monson's articles have appeared in Ethnomusicology, Critical Inquiry, Journal of the American Musicological Society, Black Music Research Journal, Women and Music, and several edited volumes.