SØNDAG 13. OKTOBER KL 20:00
Moskus & Monkey Plot (Hver for seg og sammen)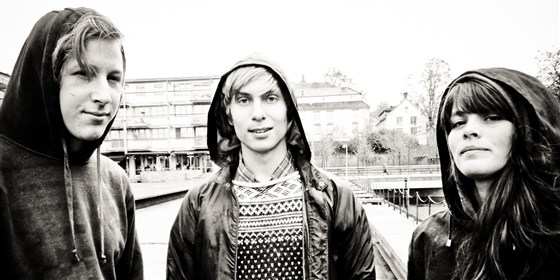 Søndag 13. oktober – Moskus & Monkey Plot
Trenger vi å si mer? Moskus! Dette vakre dyret som vi håper dominerer Dovre så lenge fjellene står. En trio som Kampenjazz hentet inn lenge før de ble oppdaget. Anja Lauvdal, Hans Hulbækmo og Fredrik Luhr Dietrichson, alle har tidlig hørt til Kampens nettverk, i denne og andre band-sammenhenger. Lenge før noen bandene de deltar i ble kjente navn. I dag kommer Moskus til Kampenjazz mer prisbehengt enn mange norske band opplever i hele sin levetid.
Etter å ha vist at det fortsatt var uutforsket rom innenfor pianotrio platedebuterte de i fjor høst med «Salmesykkel». Et ord som tør være velkjent for enhver gjest med respekt for seg selv i metodistkjerka. En salmesykkel var ungdommer og skoleelevers betegnelse på trå-orgelet som stod i alle bedehus, forsamlingslokaler og klasserom land og strand rundt i mange år før de elektriske orglene tok over. Det viser Moskus sin tanke med musikken; det har klare norske røtter, men er samtidig internasjonalt. Akkurat den dualismen vi på Kampenjazz liker.
Til Kampenjazz kommer Moskus sammen med gitartrioen Monkey Plot.
Monkey Plot spiller en helt egenarted musikk med akustisk gitar, kontrabass og trommer. I musikken kan man kjenne igjen trekk fra folkemusikk over hele verden, improvisert musikk som gis ut på selskaper som SOFA/Table Of The Elements/SYR/, eller flott musikk fra Neil Young og Yo La Tengo.
Monkey Plot slapp debutplaten «Løv og lette vimpler» på det anerkjente selskapet Gigafon i Mai, 2013. Platen ble spilt inn i stua til saksofonlegenden Frode Gjerstad sommeren 2012. Hvoretter Jan Granlie sier i Jazznytt at ««Løv og lette vimpler» er en voksen debut fra tre musikere i utvikling. De lager moderne, improvisert musikk, som er mer enn forståelig for de fleste som våger å åpne ørene og som ikke er forutbestemt.»
Moskus og Monkey Plot, hver for seg og sammen. Vær der!
Moskus: Anja Lauvdal : piano, Fredrik Luhr Dietrichson: kontrabass, Hans Hulbækmo: trommer
Monkey Plot: Christian Winther: gitar, Magnus Nergaard: bass, Jan Martin Gismervik: trommer