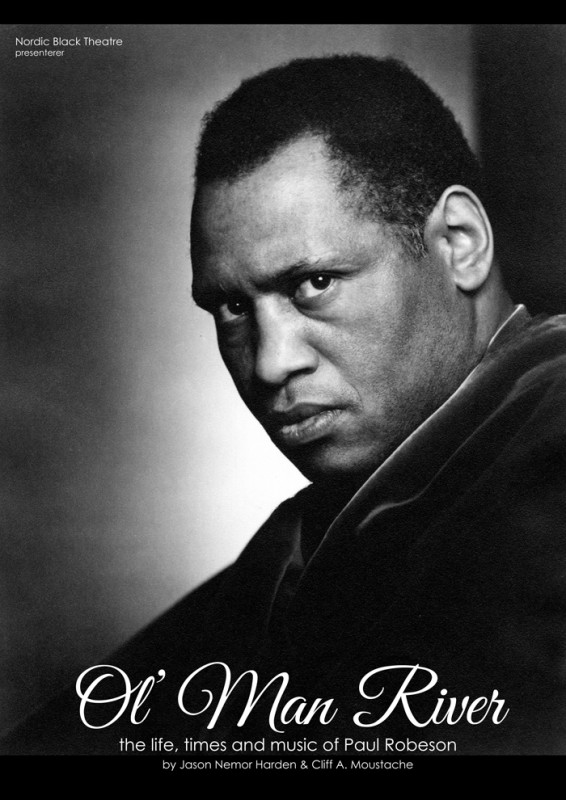 Nordic Black Theatre & Oslo World Music Festival presenterer:
Teaterforestilling «Ol' Man River – the life, times and music of Paul Robeson» av Jason Nemor Harden & Cliff A. Moustache
Paul Robeson er mer eller mindre glemt i dag, men i sin tid var han en av verdens største artister.  Den afro-amerikansk artisten og civil rights aktivisten klarte å løfte musikken sin fra mindre lokale scener i USA til de mest anerkjente scener over hele verden.  Han brukt sin posisjon til å kjempe mot den voldelige rasisme i USA.
Robeson var utdannet advokat før han ble fotballspiller og så artist.  Dette klarte han klarte til tross for tung segregering i USA.  Disiplin og hardt arbeid tok han til topps i USA og videre verden over før karrieren hans ble brutalt stanset av McCarthyism og CIAs heksejakt på kommunister.  Han nektet å forandre sine meninger, noe som gjørde han enda mer populært i resten av verden.  Robeson var en inspirasjon for den neste generasjon av frihetskjempere som Martin Luther King og Nelson Mandela.
Forestillingen handler om Paul Robesons liv og hans musikk i en vanskelig i tid i Amerika. Hovedrollen er spilt av den afro-amerikanske musikeren Jason Nemor Harden som blir akkompaniert av Henry Bwire på flygel og Tove Erikstad på Cello.
«This amazing man, this great intellect, this magnificent genius and his everlasting love for humanity is a devastating challenge to a society built on hypocrisy, greed and profit-seeking at the expense of common humanity» (New York Times)
Premiere: tirsdag 27. oktober kl. 19:30
spilles også:
onsdag 28. kl. 12:00
torsdag 29. kl. 12:00 & kl. 19:30
fredag 30. kl. 12:00 & kl. 19:30
matinee – lørdag 31. kl. 14:00
billetter kan kjøpes her: nordicblacktheatre.hoopla.no/sales/