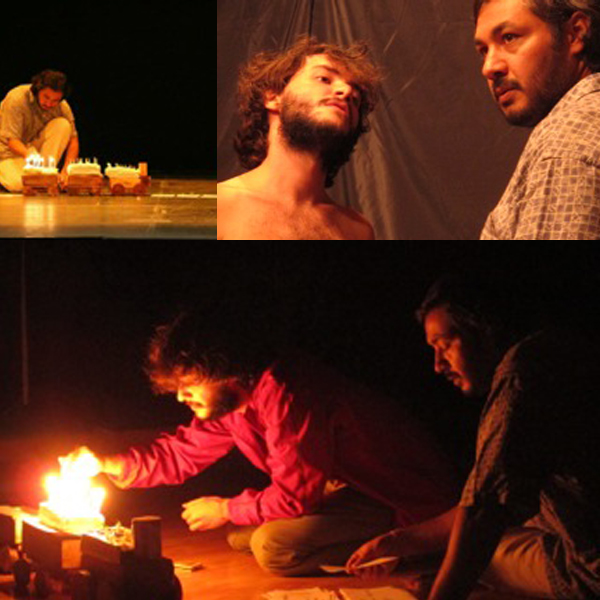 'Los pingüinos migran al sur'
(Pingvinene migrerer sørover)
av TRENZA NEGRA og VEN Y MIRA
Forestillingen spilles søndag 6. september og onsdag 9. begge dager kl 19.00
bill. kr 100.-  (kjøpes i døra)
Forestillingen ble skapt i Chiapas (Mexico) og portretterer virkeligheten til migranter og reisende i Mellom-Amerika, samt de daglige redslene til menneskene som bor i dette området av verden. Prosjektet tar ikke bare for seg migrasjon som tematikk, det er også tilstede i selve prosjektformen da forestillingen har blitt regissert tre ganger av forskjellige regisører med base i tre meksikanske stater. Dermed finnes det tre stedsspesifikke versjoner av forestillingen som reflekterer virkeligheten fra stedet den er skapt. Versjonen som blir vist i Oslo er regissert av Maritea Dæhlin (Trenza Negra), som har bodd hele livet vekslende mellom Norge og Mexico, og spilles av de Argentinske skuespillerne Mauro Adan og Gastón Puente (La Fuereña).
Forestillingen spilles på spansk.
'Los pingüinos migran al sur' by TRENZA NEGRA and VEN Y MIRA is a
theatre performance that was created in Chiapas, Mexico. A portrayal of the
realities of the migrants and travellers in Central America, and the daily fears
of the people living at this point of the world. The project doesn't only deal with migration as a subject, but also in its form, the performance has been directed in three occasions by different directors based in three states of Mexico. In this way, the performance has three version reflecting the realities of the place where it was created. The version presented in Oslo has been directed by Maritea Dæhlin
(Trenza Negra), who has lived all her life between Mexico and Norway, and performed and co-created by the Argentinian actors Mauro Adán and Gastón Puente.
The piece is performed in spanish.
Regi: Maritea Dæhlin
Skuespillere og medskapere: Mauro Adan og Gastón Puente
Prosjektkoordinator: Tlacatecatl Cabrera
Assistent: Soh Tokunaga