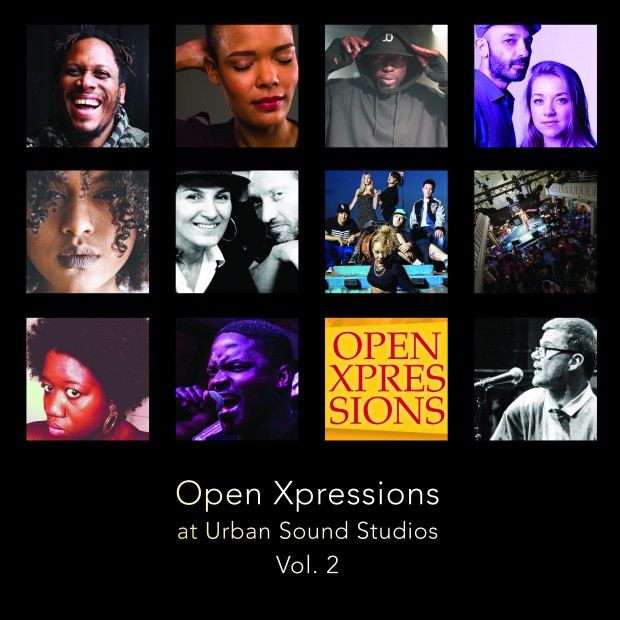 Open Xpressions blir album for andre gang!
Etter stor suksess med «Open Xpressions at Urban Sound Studios Vol 1" i 2014, vi er nå klar med Vol. 2!
Som før, plukket vi ut artister som hadde imponert under Open Xpressions arrangmenter på Nordic Black Theatre / Cafeteatret i 2015. Sammen med vår fantastiske 'Open X House Band' , tok vi artistene til Urban Sound Studios på Grunerløkka. Etter bare et par timer med øving og finpussing av låtene, spilt vi inn alle låtene live – artistene sang og rappet live med bandet. På dette albumet er det nesten ingen 'overdubs' eller redigering!
Resultatene blir helt utrolig. 9 spor som gir et innblikk i det musikalsk talentet som finnes i dagens Oslo. Låtene er sammensatt, her finnes det soul, rap, reggae, pop, jamoo og spoken word.
Alle låtene lanseres på CD og soundcloud.com på onsdag 9. mars kl. 09. Den offisiel lanseringen for albumet er på samme dag kl. 20:00 på Nordic Black Theatre / Cafeteatret,under Open Xpressions, alle artistene spille sangen sin live på scene.
Preview:
Tracklist:
1. "Counting Blessings" B Da Sufi, Sheldon & Open X House Band
2. "Medley" Sheldon Blackman & Open X House Band
3. "One Last Kiss" Berthina Kayembe & Open X House Band
4. "My Life" AfriKane feat. Maria Liholt & Open X House Band
5. "Steady Child" Awesomnia
6. "No 1 Night Stand" Léonne & Open X House Band
7. "Missed My Flight" Me and Mark
8."Rise Up High" Ari Politi & Mezada & Open X House Band
9. "Open X Stories" Sebastian Tjørstad
Om Open Xpressions
Oslos mest dynamiske, inkluderende og positiv åpen scene. Siden 2010 har det funnet sted hver tredje uke. Det er en møteplass og platform for artister om de er ung og spirrende eller erfaren og rutinert – og alle kunstform er velkommen, musikk, teater, film, dans, stand-up…. bokstavelig alt! Open Xpressions er ikke en konkurranse, er ikke kommersielt og er for alle alder, stemningen er unik! Prosjektet har vært en kjempe suksess og er alltid fullt med kø utenfør. Casting byråer, TV selskaper, The Voice, Idol og Norsk Talenter har alle vært innom på jakt etter spennende artister. Vi har hatt Open Xpressions i Drammen, Trondheim og London og kommer til å begynne andre steder i Norge i 2016 og 2017. I 2015 begynnte vi Open X Junior for yngre artister, en søndag i måned fra kl. 13-15.