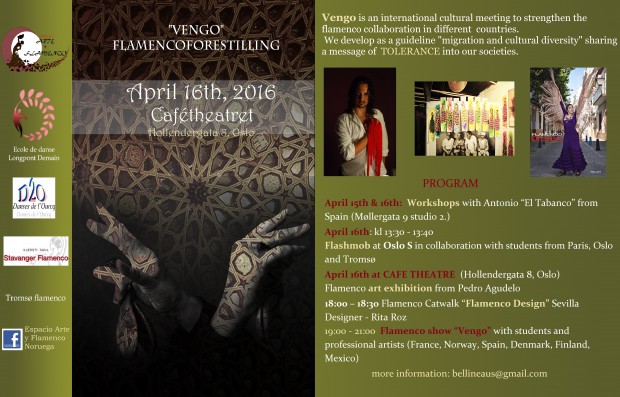 Flamenco Vengo Weekend
Performance : Cafe Theatre Address: Hollendergata 8, 0190
Vengo is an international cultural meeting to strengthen the flamenco collaboration in Scandinavia and other countries. We develop as a guideline «migration and cultural diversity» sharing a message of TOLERANCE into our societies. It is a pedagogical and artistic exchange with dance schools and artists from different countries. There would be flamenco fashion show, exhibition of flamenco handicrafts from Spain, flamenco flash mob, master classes and performance in the evening.
Schools:
Oslo – Espacio Arte & flamenco & Institute Française Oslo
Stavanger – Kjersti Dahl School
Tromsø – Peña Flamenca Tromsø
Paris – D2O and Longpont Demain (Beatriz Torres)
Program:
The performance will be set in two sets: the student's show and professional artists with alive music.
Workshops with Antonio el Tabanco:
https://www.youtube.com/watch?v=wWXflsAVXpk
April 15th: 18:30 – 20:00 Pataita por Bulerias Master class CANTE: Thierry Boisdon
April 16th: 10:30 – 11:30 Level 1
11:30 – 12:30 Level 2
Price: 200 kr (one class)
400 kr. Both workshops (friday and saturday)
Place: Møllergata 9 (NSKI)
Payment deadline April 8.
Banknr: 12540591413
Antonio El Tabanco from Andalucia, is a very well know flamenco dancer in the flamenco environment from Spain. With a very high level, that has taugh and dance all around the world. We have a great pleasure to have him as a guest and as a dancer at our show.
April 16th: kl 13:30 – 13:40
Flashmob at Oslo in collaboration with students from Paris, Oslo and Tromsø
(Oslo S)
Café theatre
Address Hollendergata 8, 0190 :
18:00 – 18:30 Flamenco Catwalk "Flamenco Design" Sevilla
Designer – Rita Roz
& Flamenco art exhibition – Pedro Agudelo
19:00 – Flamenco show "Vengo" with students and professional artists
Musicians:
Bettina flater – guitar
Thierry Boisdon – cante
Antonio el Tabanco – dance
Beatriz Torres – dance
Bellali Austria – dance