Søndag 19. mars kl. 20:00 – Arild Andersen Rose Window Trio
Arild Andersen: bass, Helge Lien: klaver, Gard Nilssen: trommer
billetter: https://nordicblacktheatre.hoopla.no/sales/ eller i døra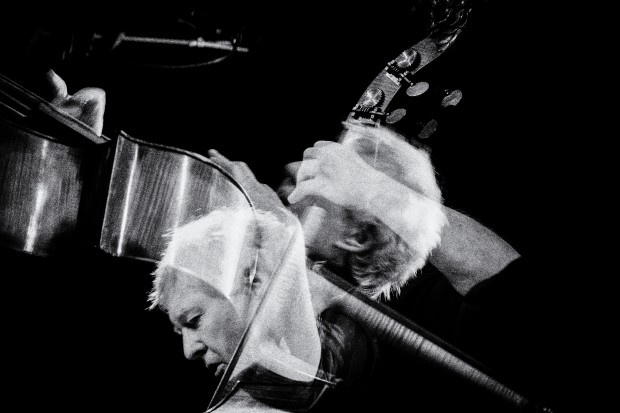 Foto D. Clark
Arild Andersen var vel nærmest selvsagt til å bli valgt til konsertserien «European Jazz Legends». Femten utvalgte europeiske musikere skulle spille hver sin konsert som seinere ville bli gitt ut på plateselskapet Intuition.
Arild Andersen tok med seg Helge Lien og Gard Nilssen på denne konserten den 15. april 2016 i teateret i tyske Gütersloh. Da plata «Rose Window» kom ut karakteriserte Terje Mosnes den som «legendarisk» og etter det har den høstet glitrende omtaler i inn- og utland.
Ikke rart da at en rekke jazzmedia har plata som en av årets beste utgivelser i 2016. Roald Helgheim har den som nr. 2 i Dagsavisen, Fredrik Wandrup peker den ut som en av de beste, mens amerikanske New York City Jazz Records nevner plata som en av «honorable mentions» til «Albums of the Year».
Etter en turné i Japan i januar 2017, fortsetter trioen med konserter i Norge – og altså på Kampenjazz.
Ikke vet jeg om Arild Andersen med platetittelen tenker på Rose-vinduet i Nidarosdomen, men uansett bør du være der for å oppleve et fargesprakende musikalsk maleri som er på høyde med dette – hvor musikken slipper lyset inn i livet!