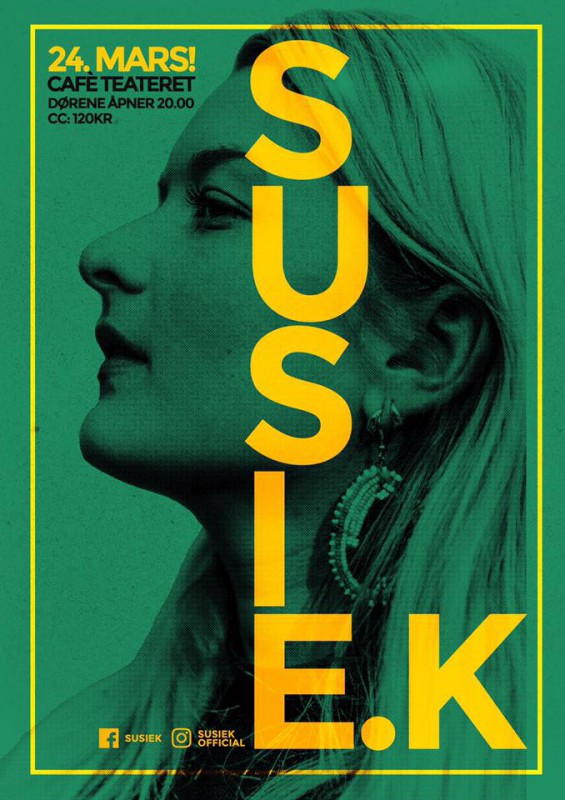 Dørene åpner 20.00
Cc: 120 kr
Susie K er en Oslobasert blues/soul vokalist fra Hvaler. Hun slapp sin første singel i 2016, som samtidig markerte starten på hennes karriere som soloartist. Hun er også medlem i Solo Diarra Band, hvor hennes bakgrunn som pop/blues sanger er en viktig del av bandets uttrykk: fusjonen mellom det afrikanske og mer kommersielle musikkuttrykk. Susie Ks personlige uttrykk beveger seg naturlig nok i spennet mellom pop/blues, iblandet elementer hentet fra afrikansk musikk. Hun er kjent for sin innlevelse og evne til å tolke sangene, og publikum blir gang på gang imponert over hennes kraftige og uttrykksfulle stemme.
Band:
Susie K – Vokal
Andreas Fammé – Bass
Joachim Henriksen – Gitar
Jc Vesttun – Keys
Sondre Stokkan Spæren – Trommer
Solo Diarra – Djembe
Birgitte Hellwig – Kor
Mari Sawe – Kor
Veslemøy Wangsmo – Kor
ENGLISH
Susie K is an Oslo based blues/soul vocalist from the islands of Hvaler, Norway. Susie K released her first single in early 2016, marking the start of her new life as a professional musician. She is also a key member in the Oslo based African-Norwegian band Solo Diarra Band, making use of her pop&blues centric ideas to the fullest. Susie K´s style ranges from pop to blues, with influences from african music. She is known for puting her heart into the music, and you`ll surley be struck by her characteristic and powerful voice once you hear it.
Foto: Mona Ulriche Schanche
Art: Redwan Belhadri