onsdag 24. mai kl. 20:00 – gratis inngang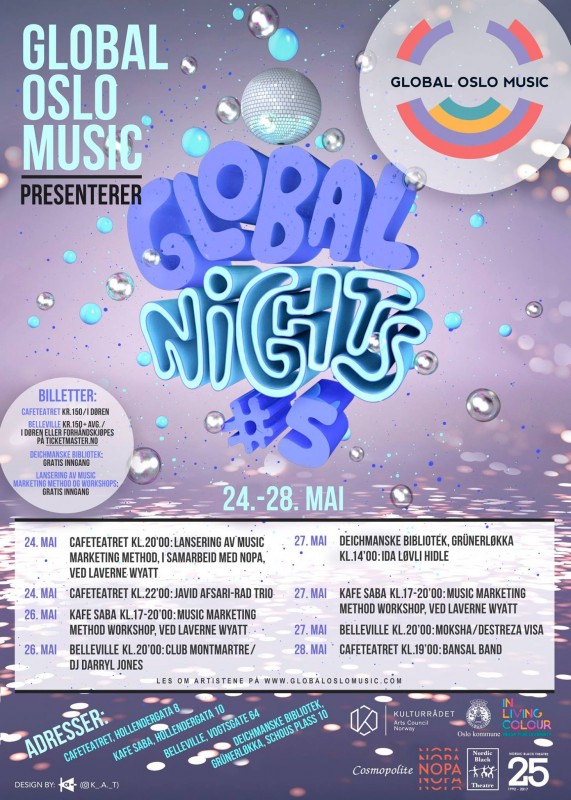 Er du en artist med internasjonal bakgrunn, bosatt i Norge, med behov for råd om hvordan man lager en god artistprofil, markedsfører musikk på en effektiv måte, samt en orientering i det norske musikklandskapet? Da inviterer vi deg til introduksjonen av Music Marketing Method – et online magasin som gir deg hjelpen du trenger. Den er utformet av digital designer Laverne Wyatt fra In Living Colour, som er spesialisert i markedsføring og webløsninger for artister. Hun gir gode råd og har dessuten snakket med internasjonale artister som deler av sine erfaringer fra møtet med det norske musikklandskapet, som vi vil bli introdusert for.
Music Marketing Method er et samarbeidsprosjekt mellom Global Oslo Music, In Living Colour og Norsk forening for komponister og tekstforfattere – nopa.no. Fri inngang – Velkommen!
Med finansiell støtte fra Norsk kulturråd og NOPA.
(E) Are you an artist with an international background, living in Norway, with a need for advice and tips on how to:
Create a good artist profile
Market yourself in an effective way
And orient yourself in the Norwegian musical landscape?
Then we invite you to the introduction of Music Marketing Method – an online magazine that gives you the help you need. It is developed by Laverne Wyatt from In Living Colour Media, a specialist in marketing and web design learning for artists. She offers good advice and will also present views from international artists who share their experiences navigating the Norwegian musical landscape.
Music Marketing Method is developed in collaboration with In Living Colour and Norsk forening for komponister og tekstforfattere – nopa.no. Free entrance – Welcome!
With financial support from Arts Council Norway and NOPA.
Laverne WYATT
Blant det som utmerker seg i arbeidet til Laverne Wyatt, er det fokuset på det moderne Norge – et samfunn som utspiller seg i et mangfold av kulturer og uttrykk. Gjennom sitt eget firma In Living Colour, bidrar hun til at mennesker fra alle kulturer skal bli mer synlige i media. Sentralt i dette arbeidet er undervisning i digital design til mennesker med liten erfaring på område, slik at de skal kunne tilegne seg gode verktøy for profesjonell markedsføring av sine arbeider, uten store kostnader. Laverne er selv fra Sør-Afrika, men har de siste årene bodd i Malta og Norge. I alle tre landene har hun jobbet med grafisk design, motedesign, undervist, organisert eventer, jobbet med markedsføring, og mer generelt: bidratt i oppbyggingen av internasjonale foretak, små forretninger og ideelle kultur- og musikkorganisasjoner.
(E) f there is one thing that influences Laverne Wyatt's work most, it is the modern Norway – a society unfolding through a diversity of cultures and perspectives. Through her company In Living Colour – Media for Diversity, she focuses on increasing the visibility of different cultures in social media. Central to this work is her workshops in digital design aimed at people of diverse backgrounds with little experience in this field. The aim being that they are empowered with good tools for professional marketing of their work, on a limited budget. Laverne is herself from South Africa, but has these recent years lived in Malta and Norway. In all three countries she has worked with graphic design, fashion design, teaching, organising events, marketing, and more generally: being of service with branding for international brands, micro enterprises and local cultural and musical organisations.