Internasjonal samarbeid om teaterforestillingen «En Folkefjende»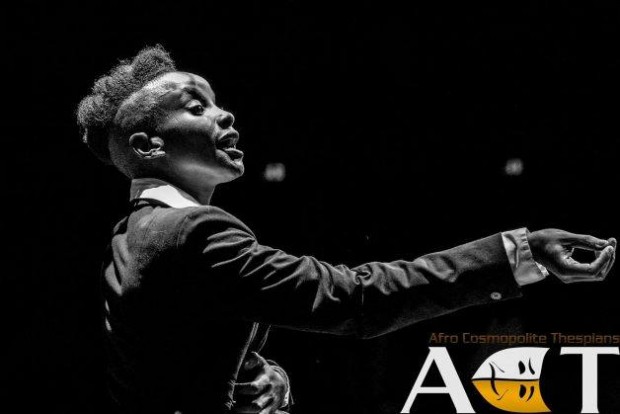 "I am in revolt against the age old lie that the majority is always right" – Henrik Ibsen
23rd – 28th October 2017
Baltoppen LIVE
Ballerup, Denmark
ACT (Denmark) in collaboration with Nordic Black Theatre (Norway) and Södra Community Theatre (Sweden) present to you «An Enemy of the People (En Folkefiende) by Henrik Ibsen, as adapted by Arthur Miller.
When Dr. Stockmann discovers toxic contamination in the water used at the local baths, she expects to be hailed as a hero. But since the baths are the town's main source of revenue, the community fights to silence her. Dr. Stockmann quickly finds out that the majority can easily be swayed to oppose the truth.
«And this is it – The strongest person in the world is one who stands alone!»
Ibsen's En Folkefiende from 1882 is a timeless classic that was adapted by Arthur Miller in the 1950s during the McCarthy Era and it is still relevant in 2017. The directorial approach furthers the adaptation and takes cognizance of diversity realities that are prominent in the Nordic countries also by re-adjusting the gender balance of male/female to reflect realities of the 21st Century – with the constant erosion of male-dominated story-telling.
What sets this production apart is our cast and production team, which comes with diverse ethnic roots and backgrounds not just from Denmark, Norway and Sweden, but also Zimbabwe, Pakistan, Kenya, India, Ghana, Turkey, Canada, USA, Venezuela, Cameroun, Morocco, Seychelles, Brazil and Ivory Coast. Now settled in the Nordic region, they share the same love for theatre & arts and impart a multicultural perspective to the project.
An Enemy of the People will be premiering at Baltoppen LIVE in Ballerup, Denmark on the 24th of October 2017 and playing until the 28th.
About the Theatres:
An Enemy of the People is a collaborative project between three Nordic theatre companies, united in their focus on diversity and minority visibility in theatre.
ACT – Afro-Cosmopolite Thespians is a professional, multi-faceted theatre company in Copenhagen, Denmark that engages in a variety of performing arts, training and productions, primarily in English, but not exclusively. The vision of ACT is to have multiple cultures share a stage, and to aesthetically embrace and reflect cultural diversification. http://thespians.dk/
Nordic Black Theatre is based in Oslo, Norway. The theatre has a history of producing its own plays, of participating in collaborative projects with other artists, and of developing young, multicultural actors, through the theatre school Nordic Black Xpress (NBX). The company was founded in 1992 and is currently celebrating its 25th anniversary. http://nordicblacktheatre.no/
Södra Community Theatre was founded in 2011 in Malmö, Sweden. The vision of the theatre is to create a space where personal stories are shared, and where especially the younger generation can take an active part in the creation of cultural projects. At Södra Community Theatre, they wish to have a broad spectrum of communities and stories represented on stage, and to build bridges between the young and the old, the locals and the newcomers. https://www.sodracommunity.se/
Artistic Directors:
ACT – Michael Omoke
Nordic Black Theatre – Cliff Moustache
Södra Community Theatre – Jonas Jarl
The Cast:
Alice Knuth
Hina Zaidi
Zach Khadudu
Wanjiku-Victoria Seest
Herve Toure
Camilla Rosenkrands
Kevin Mbugua
Isak Viktor
Shasyaa Harsh Vaishnav
Amanda Quartey
Production Team:
Michael Omoke – Producer
George Mungai – Director & Scenic Designer
Mine Nilay – Assistant to the Director
Jonas Jarl – Dramaturg
Zach Khadudu – Production Manager
Anna Maria Blicher Skanborg – Stage Manager
Mikaela Aular – Assistant Stage Manager
Dana Stojakovic – Costume Designer
Darlene Popkey – Music Director
Shasyaa Harsh Vaishnav – Graphic Design
Anis Dhiman – Photographer
Deise Nunes – Observer
Project Coordinators:
Anna Maria Blicher Skanborg
Zach Khadudu
Kevin Yuven
Hind Charafi
Shasyaa Harsh Vaishnav
An Enemy of the People is sponsored by:
Nordisk Kultur Fond
Den Svenske Ambassade
Den Norske Ambassade
Our partners for this production are:
Baltoppen LIVE
Forsøgsstationen
Sisters Cuisine
«This meeting declares that it considers Dr. Stockmann, Medical Officer to the Baths, to be an enemy of the people.»
Teaterforestillingen En Folkefjende, Henrik Ibsens evigtaktuelle drama, der fremføres i en moderne fortolkning af Arthur Millers oversættelse..
Forestillingen er instrueret af kenyanske George Mungai og sat i scene af dramaturg Jonas Jarl og holdet bag sidste års Shakespearesucces Købmanden fra Venedig. Sammen udfordrer de det nordiske teater og dets traditionelle typecasting.
Skuespillerne og holdet bag scenen kommer, foruden Sverige, Danmark og Norge, fra Zimbabwe, Pakistan, Kenya, Indien, Ghana, Tyrkiet, Canada, USA, Cameroun, Marokko, Seychellerne, Brasilien og Elfenbenskysten.
Bag det skandinaviske teatersamarbejde står norske Nordic Black Theatre, svenske Södra Community og danske Afro Cosmopolite Thespians ACT. De tre kompagnier bærer en fælles vision om løfte mulighederne for minoritetskunstnere bl.a. igennem Multiple Cultures Sharing a Stage.
I en flerkulturel kontekst skabes rum for nye fortolkninger af klassiske vesteuropæiske dramaer, hvilket giver en anderledes værditilgang og en debatstimulerende vinkel på de store fortællinger.
Forestillingen er støttet af Sveriges ambassade, Norges ambassade og Nordisk Kulturfond.
Medvirkende: Alice Knuth, Hina Zaidi, Isak Victor, Victoria Seest, Shasyaa Harsh, Zach Khadudu, Kevin Mbugua, Camilla Rosenkrands, Herve Toure og Amanda Quartey
Idé: Michael Omoke
Instruktør: George Mungai
Instruktørassistent: Mine Nilay
Dramaturgisk konsulent: Jonas Jarl
Kostumedesigner: Dana Stojakovic
Dramatiker, forfatter: Henrik Ibsen
Komponist: Darlene Popkey
Oversætter: Arthur Miller
Producent: ACT (Afro-Cosmopolite Thespians)
Arrangør: ACT (Afro-Cosmopolite Thespians)
Unummererede siddepladser.
Anbefales fra 13 år.
Varighed: 1 time og 30 minutter med pause.
Forestillingen spilles på engelsk.
Læs mere på:
https://www.facebook.com/events/1820751814904425/?acontext=%7B%22action_history%22%3A%22
eller