5 på tvers møter Line Verndal
Vi inviterer til en ærlig, ujålete og vakker kveld på Cafeteatret med fem fløytister, mange fløyter og en skuespiller. Tekster av Inger Hagerup og musikk av Kevin Malone, Felix Mendelssohn-Bartoldy, Adrienne Albert og norgespremiere på Quintet for Flutes av Bjørn Bolstad Skjelbred.
fredag 20. april
kl. 19:30 – kr 170 (inkl. billett avgift)
billetter: https://nordicblacktheatre.hoopla.no/sales
mer info: klikk her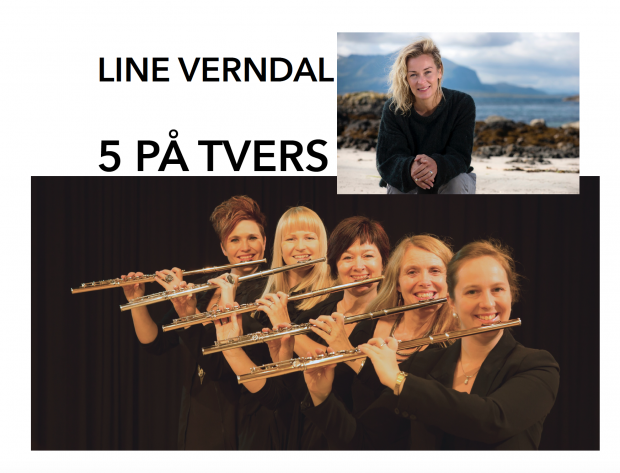 The Norwegian flute quintet 5 Across was established in 2011. Since the beginning, 5 Across has  regularly played concerts and participated in different events. The instrumentation is in addition to the regular c- flute, piccolo, alto and bass flute. 5 Across wishes to expand the repertoire for flute quintet by comissioning works from composers around the world. Their last international performance was at the 45th NFA Flute Convention in Minneapolis, August 2017.
Fløytekvintetten 5 på Tvers ble etablert høsten 2011. Siden oppstarten har 5 på Tvers spilt jevnlig konserter og deltatt på festivaler i inn og utland. I januar 2017 var kvintetten hovedgjest med fokus på kammermusikk under Fløytefest i Skien. I juni urfremføre 5 på Tvers Bjørn Bolstad Skjelbred, Quintet for flutes (2017) under Norsk Fløytefestival og i august 2017 var 5 på Tvers igjen invitert til National Flute Association i Minneapolis, USA, hvor de spilte Bjørn Bolstad Skjelbred, Quintet for flutes (2017), Geir Sundbø, Winter Scene (2016) og Norsk folkemusikk sammen med gjestene Håkon Høgemo, hardingfele og Kjell Tore Innervik, slåttetromme.