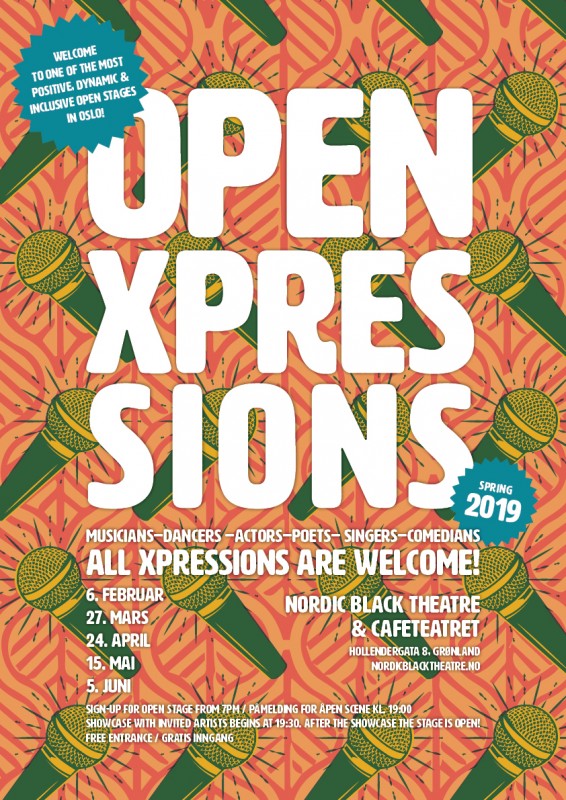 Welcome to one of the most positive, dynamic and inclusive open stages in Oslo!
Musicians * Dancers * Actors * Poets * Singers * Comedians /// All xpressions are welcome!
sign-up for open stage from 7pm
påmelding for åpen scene fra kl. 19:00
showcase begins  kl 19:30 / 7.30m /// after showcase the stage is OPEN
Dates for Spring 2019:
6. februar, 6. mars, 27. mars, 24. april, 15. mai, 5. juni
OBS!
For this session we will also have a very special theatre experience!
Du er på fest ved hoffet i Messina på Cecilia, år 1601. Din kusine, overmodne Beatrice, er lei av sine beilere og trenger en pause. Blir du med henne?
Sier du ja blir du tatt med på en omsluttende teater-opplevelse, med bind for øynene. Forestillingen spilles kun for én person av gangen, og varer ca åtte minutter. Lyst til å oppleve Shakespeare på en annerledes måte, og komme skikkelig tett på teksten? Ta sjansen, og la Beatrice ta deg med inn i sin verden!
les mer og kjøpe billett – kr 50 – her:  http://wp.me/p6qdwF-4AT