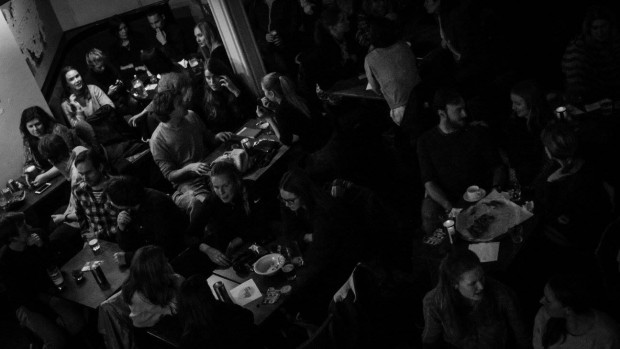 Velkommen til sesongens første Doc Lounge!
Denne kvelden er vi stolte av å kunne presentere filmen «Minding the Gap» av Bing Liu. Filmen er Oscar-nominert og kan vinne for beste dokumentar. Filmen har sanket priser på festivaler verden over!
«Minding the Gap» er ikke en skatefilm, men en film om skating, vennskap og et behov for å flykte. Vi blir kjent med tre gutter fra en amerikansk småby som har hatt en vanskelig barndom. Regissøren Bing Liu drar tilbake til sin hjemby i Illinois og prøver å finne svar på hvorfor han og vennene hans flyktet til skating da de var unge.
Før filmvisningen blir det en uformell samtale om skating i Oslo med en liten delegasjon fra Gamlebyen Sport og Fritid (GSF).
Håper å se deg der!
_______________________________________________
Welcome to this season's first Doc Lounge!
We are very proud to present Bing Liu's documentary Mind the Gap.
Minding the Gap is not just a skate film, but a film about friendship and the longing to fly. We follow 3 teenagers from an American smalltown who have experienced difficult childhoods. Director Bing Liu travels back to his hometown in Illinois where he explores the reasons why he and his friends used skating as an escape from home life when they were younger.
Before the screening we are fortunate to ha small delegation from from Gamlebyen Sport og Fritid (GSF) talk us through their own experiences within the skate community in Oslo.
We look forward to seeing you!
DØRENE ÅPNER / DOORS OPEN: 18.00
EVENTET STARTER / EVENT STARTS: 19.00
Lengde / Length: 93 minutter
Språk / Language: Engelsk / English
TRAILER: https://www.youtube.com/watch?v=n5Vm_Awe3bw
Caféteateret på Grønland, Hollendergata 8
Ta 37-bussen til Politihuset.
Billetter selges i døren: 70,- (50,- for studenter)
Støttet av Norsk Filminstitutt.
Om Doc Lounge:
På Doc Lounge i Oslo får du servert det beste av internasjonal dokumentarfilm. Doc Lounge Oslo har fra februar 2016 hatt månedlige dokumentarfilmvisninger. Med Doc Lounge ønsker vi å holde inspirerende kvelder basert på gode dokumentarer, med tilskudd av musikk, underholdning, foredrag, forestillinger eller utstillinger. Arrangementene er lagt til første tirsdag i måneden på Caféteateret.
DØRENE ÅPNER: 17.00
ARRANGEMENTET STARTER: 18.00
PS! Cafeteateret selger blant annet pizza som man kan nyte før, under og etter filmen!
Caféteateret på Grønland, Hollendergata 8
Ta 37-bussen til Politihuset.
Billetter selges i døren: 70,- (50,- for studenter)