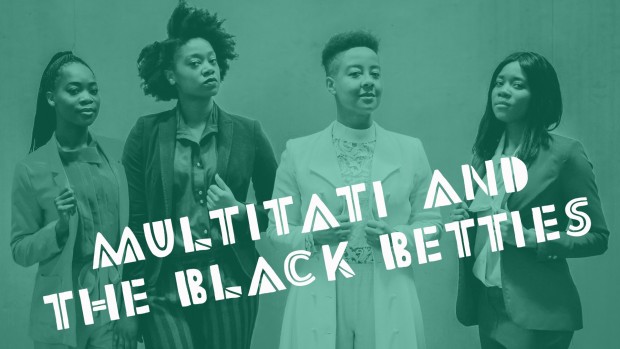 MULTITATI & THE BLACK BETTIES
lørdag 24. august kl. 22:00
MultiTati er mest kjent som artisten Miss Tati – og for å skape fyrverkeri på scenen. Når hun tar på seg DJ-hatten spiller hun rytmisk musikk fra Afrika og diasporaen: alt fra dancehall til baile funk, og som vanlig et deilig utvalg av
afrobeats, afro house, kuduro og bass tunge hybrider av disse.
Med seg har hun sin familie aka The Black Betties til å fyre opp dansegulvet. Ta turen innom og dans deg løs til uitmotståelige deilige greier.
Sjekk ut en av Miss Tatis musikk her: https://open.spotify.com/artist/5Hd60mJ1a3qsXcOCoqtVW6
Følg Miss Tati på:
FB: https://www.facebook.com/misstatitati
Nettside: https://www.misstati.com/
—————————————————————-
OSLO AFRO ARTS FESTIVAL (OAAF)
Oslo Afro Arts Festival (OAAF) er en pulserende musikkfestival som feirer Afro Arts: kunst og musikk med røtter fra tradisjoner og kulturer fra forskjellige land på det afrikanske kontinentet som foregår på Grønland i Oslo.
Festivalen er en fortsettelse av Zimfest Oslo, en zimbabwisk musikk- og kulturfestival som startet i 2014. Den tar sikte på å være en festival som vise den enorme bredden som finnes i afrikansk kunst- og kulturarv, og være en plattform for dette.
OAAFs program består av konserter, slampoesi, dansopptredener, filmvisning, workshops, forelesninger og arrangementer for barn og ungdom. I tillegg arrangerer vi et afrikansk marked med boder, mat, aktiviteter for barn og musikk.
OAAF jobber i tråd med FNs retningslinjer for «anerkjennelse, rettferdighet og utvikling» gjennom å fremme respekt, beskyttelse og oppfyllelse av alle menneskerettigheter og grunnleggende frihet for mennesker med afrikansk opprinnelse.
Disse målene utfordrer samfunnet til å sette fokus på å anerkjenne folk med afrikansk opprinnelse og deres betydelige bidrag til verdenssamfunnet, å foreslå konkrete tiltak for å fremme deres fullstendige inkludering, og bekjempe alle former for rasisme, rasediskriminering, fremmedhat og intoleranse.
På bakgrunn av dette vil OAAF arbeide for å skape en åpen og inkluderende festival hvor afrikansk kultur kan oppleves gjennom kunst, musikk, mat, diskusjon, informasjon og samhandling. Videre ønsker vi å bidra til å styrke den internasjonale musikkscenen i Oslo og inspirere musikere til å samarbeide på tvers av etnisk, kulturell og religiøs tilhørighet.