The Oslo Bloomsday Celebrates 10 years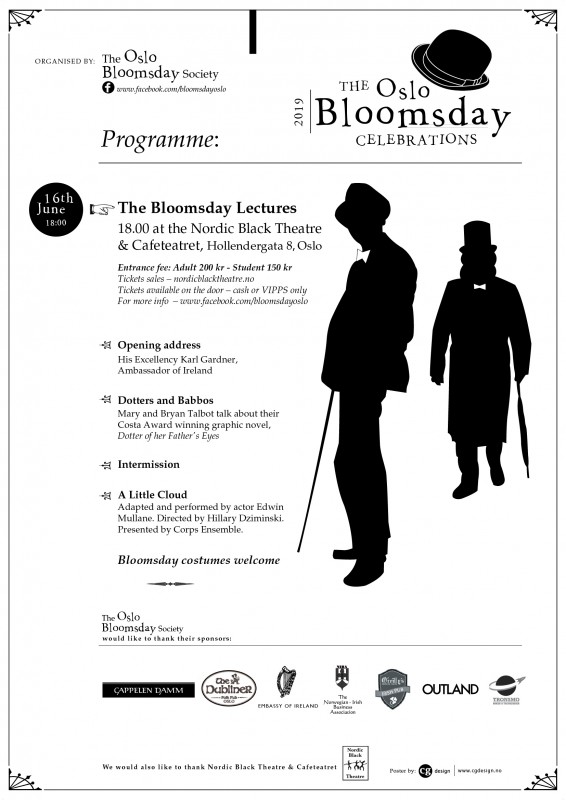 THE OSLO BLOOMSDAY CELEBRATIONS
Sunday 16th June 2019 at 18.00
Entrance fee: Adult 200 kr. – Students 150 kr.
Tickets are available here: https://nordicblacktheatre.ticketco.events/no/nb
Tickets also available on the door – cash or VIPPS only
For more info – www.facebook.com/bloomsdayoslo
We are delighted to present the programme for the Oslo Bloomsday Celebrations 2019. This will be our tenth year on the go! Our gracious hosts this year is the Nordic Black Theatre in Grønland as the Ibsen Museum is closed due to building work. We hope that you like what we have on offer and remind you that while Bloomsday costume is not obligatory, we do encourage you to join in in the fun.
PROGRAMME
Opening address:
His Excellency Karl Gardner, Ambassador of Ireland
Dotters and Babbos
Bryan and Mary Talbot talk about their first collaboration, Dotter of her Father's Eyes. Produced through an intense collaboration seldom seen between writers and artists, their book became the only British graphic novel to win a major literary prize: the 2012 Costa Biography Award. Part personal history, part biography, it contrasts two coming-of-age narratives: that of Lucia, the daughter of James Joyce, and Mary, the daughter of the eminent Joycean scholar James S. Atherton. Social expectations and gender politics, thwarted ambitions and personal tragedy are played out against two contrasting historical backgrounds, poignantly evoked by Bryan's atmospheric visual storytelling.
www.mary-talbot.co.uk  –  www.bryan-talbot.com
INTERMISSION
A Little Cloud
Adapted and performed by actor Edwin Mullane. Directed by Hillary Dziminski. Presented by Corps Ensemble.
A new adaptation of a much loved short story from Joyce's Dubliners.
Irish Nationalism is at its peak, and a search for a national identity and purpose is raging; we meet Little Chandler and Ignatius Gallagher as the latter briefly returns to Dublin from London regaling tales of his career and bawdy international exploits.
'Mullane is a Master Storyteller'  – The Stage UK
http://www.thecorpsensemble.com/meeted
About Bloomsday:
Bloomsday celebrates the day on which the action of James Joyce's novel Ulysses takes place on 16 June 1904. Joyce chose this date as a gift to his partner and later wife, Nora – to commemorate the day on which she first went for a romantic stroll with him, and changed his life forever.
The day is named after Leopold Bloom, the central character in Ulysses. The novel follows the life and thoughts of Leopold Bloom and a host of other characters – real and fictional – from 8 a.m. on 16 June through to the early hours of the following morning. It is considered to be one of the most important works of modernist literature.