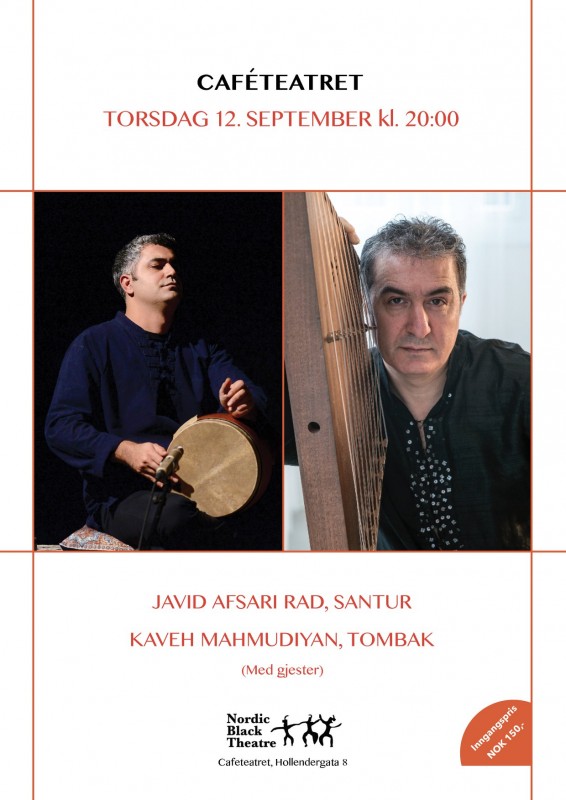 Iransk klassisk musikk.
dørene åpner kl. 19 konserten begynner kl. 20
Javid Afsari Rad (b. 1965), plays a number of instruments, the Persian santur being his main instrument. He has lived in Norway since 1986 and comes originally from Iran, where he studied classical Persian music. Javid is also a composer and is artistic director of the ensembles ComboNations, Rumi Ensemble and Norwegian World Orchestra. The music he composes is strongly inspired by the Persian tradition he studied in Iran, but also by his study of Western classical music in Norway. He has toured throughout much of the world and has composed a number of commissioned works, including one for the Norwegian Radio Orchestra in 2006. In 2008 Javid was named the Municipality of Oslo "Artist of the Year". One of his main projects is to create new and exciting musical expression through the fusion of diverse musical traditions. His groups feature musicians from, among other countries, Iran, India, Morocco, Ivory Coast and Senegal.
KAVEH MAHMUDIYAN
Perkusjon
Kaveh Mahmudiyan er en norsk-iransk perkusjonist, med det tradisjonelle iranske slagverkinstrumentet tombak som hovedinstrument. Han har samarbeidet og spilt sammen med mange toneangivende musikere, komponister og vokalister både nasjonalt og internasjonalt på en rekke prestisjefulle og internasjonalt respekterte festivaler og konserter. Blant samarbeidspartnere finner vi den norske jazzmusikeren Bugge Wesseltoft og de verdenskjente iranske musikerene Javid Afsari Rad og Hamid Motebassem.
Som utøver jobber Mahmudiyan for det meste innenfor musikalske sjangere som jazz og iransk tradisjonell musikk og komponerer dessuten mye for tombak.
Mahmudiyan er høyt respektert for sin unike evne til å bringe ulike tonespråk og rytmer sammen.