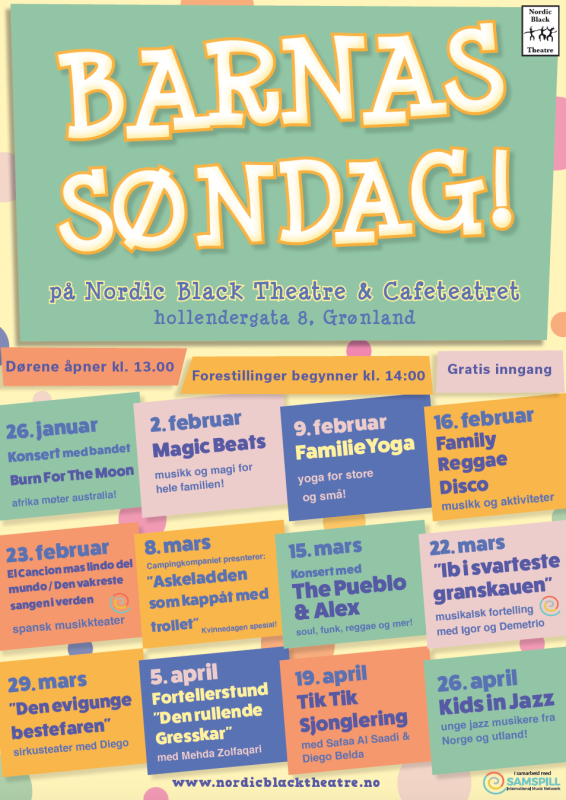 Barnas søndag: Askeladden som kappåt med trollet kl. 14:00 – gratis
Campingkompaniet er et omreisende teater- og musikkompani – ja en krysning mellom teatertruppen i Reisen til Julestjernen og fargerike Hippier – som består av skuespillerne Lisa Birkenes Thun og Sofia Knudsen Estifanos.
De kommer med den forrykende familieforestillinga "Askeladden som kappåt med trollet" (Regi: Erik Bauck Bårdstu). Den handler om Askeladden som mot alle odds lurer det slemme trollet og redder familien sin. Eller handler den om Askeladden som må ta konsekvensene av å ha eldre søsken som egentlig burde ha lært å stå opp for seg selv for lenge sida? Eller handler den om et uskyldig gammelt troll som opplever å få hagen sin invadert av fremmede? Snakker vi egentlig grove brudd på eiendomsretten her? Og hvor mye grøt er det egentlig plass til i en mage? Vi får se.
Barnas søndag byr på gratis opplevelse for familier.  Konserter, teater, forestillinger, workshops og mer!
dørene åpner kl. 13.00 og showet begynner kl. 14.00
Alltid gratis og åpent til alle
——————————————–
Barnas søndag is space for families to have an experience together.  Concerts, theatre, performances, workshops and more!
the doors open at 1pm and the show starts at 2pm
Always free and always open to all