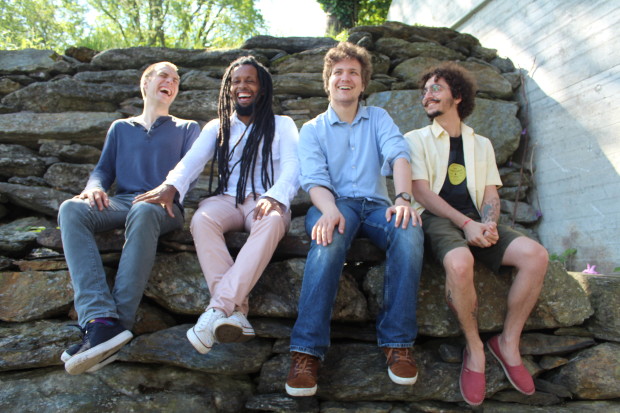 Fredag 12. juni. kl. 20:00, 100 kr
(Dørene åpner kl. 19:00)

Afro-Brazilian Jazz Quartet, formed by two Brazilian and two Norwegian musicians. The group brings the fusion of Bahia Grooves and Free Jazz.
Borrowed from the Yorùbá language, «Orun», means the sky or the Spiritual World that goes parallelly with the physical world. It can also mean the Sunlight. The Orun come as a gift and summarizes the identity and the investigation of the group. The Quartet bases their research in ancestral music, focuses on the African heritage and how it influences Brazilian Music and Jazz. The group aims to do ethnic rescues, bring back the orality for the musical communication and have the clave or rhythmic ostinatos as their principal foundation. At the moment, the research is framed on the Terreiros and the spiritual drumming with Atabaques, Ilús, Abês, Cowbells and Agogô. In addition, the group have been embracing contemporary elements and experiences with new compositions. The result of the continuous research process and composition laboratory can be experienced by the audience during the concert. The repertoire is full of deep roots from Afro-Brazilian Traditional Music and New Music, composed by the band members and inspired by the ancestral music.
Take a look here:
facebook.com/orunquartet/ 
You Tube
Instagram
Piano – Silas Gomes
Drums – Olav Abildgaard
Bass – Vetle Laupsa
Percussion – Eduardo Scaramuzza
SMITTEVERNSREGLER
Vi følger myndighetenes smittevernsregler og sørger for en trygg konsertopplevelse.
• Billetter kjøpes på TicketCo og selges ikke i døren.
• Vi tilbyr mat (pizza) og drikke.
• Du bestiller og får servert mat/drikke ved bordet ditt. Betaling kun med kort/Vipps.
• Dørene åpner kl. 19:00 (konsertstart kl. 20:00) og vi anbefaler at du kommer tidlig.
Vi gleder oss!