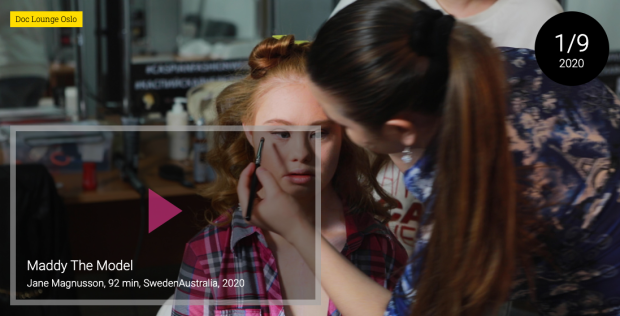 Tirsdag 1. september, kl. 19:00, 80 kr / 50 kr (student). Billetter forhåndskjøpes.
(Dørene åpner kl. 18:00)

Velkommen til høstens første visning!
I 2015 skjedde det noe helt unikt i moteverden. Maddy Stuart entret catwalken som den første supermodellen i historien med downs syndrom.
En sprudlende Maddy Stuart tok publikum på New York Fashion Week med storm. Med morens hjelp har australieren deltatt i moteshow over hele verden og blitt fotografert av flere internasjonale motemagasiner. Full av glede og energi, utfordrer hun moteindustriens definisjon på vakker, samtidig som hun skaper muligheter for mennesker med nedsatt funksjonsevne. Spørsmålet gjenstår imidlertid om Maddys deltagelse virkelig bidrar til større mangfold, eller om hun bare er en ny trend.
Regissør: Jane Magnusson
Sverige og Australia / 2020 / 92 min
Språk: engelsk / Undertekst: engelsk
OM DOC LOUNGE:
På Doc Lounge i Oslo får du servert det beste av internasjonal dokumentarfilm. Doc Lounge Oslo har fra februar 2016 hatt månedlige dokumentarfilmvisninger. Med Doc Lounge ønsker vi å holde inspirerende kvelder basert på gode dokumentarer, med tilskudd av musikk, underholdning, foredrag, forestillinger eller utstillinger.
ENGLISH:
«Maddy the Model" is a film about Madeleine Stuart and her mother Rosanne's campaign for inclusion. Maddy is the first model with Down's syndrome to walk down the catwalk at New York Fashion Week. A team followed this amazing woman for 4 years. From Brisbane to China, to Uganda and New York and back again. It is tough at times, not everyone is as pro-change as Maddy and her mother is, not everyone wants to tear down the walls of restriction and conformity. But, if anyone can reform the multi-billion fashion industry's definition of beauty, maybe Maddy is the one.
SMITTEVERNSREGLER
Vi følger myndighetenes smittevernsregler og sørger for en trygg opplevelse.
• Billetter kjøpes på TicketCo og selges ikke i døren.
• Vi tar i mot bestillingen ved bordet ditt. Betaling kun med kort/Vipps.
• Dørene åpner én time før start og vi anbefaler at du kommer tidlig.
Velkommen!