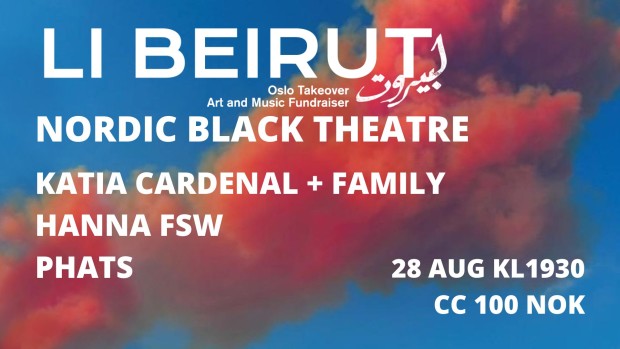 Fredag 28. august, kl. 19:30, 100 kr
(Dørene åpner kl. 18:30)

SMITTEVERNSREGLER
Vi følger myndighetenes smittevernsregler og sørger for en trygg opplevelse.
• Billetter kjøpes på forhånd og selges ikke i døren.
• Vi tar i mot bestillingen ved bordet ditt. Betaling kun med kort/Vipps.
• Dørene åpner én time før start og vi anbefaler at du kommer tidlig.
CLICK HERE TO DONATE : fnd.uz/LiBeirut
#OSLOLIBEIRUT, an Art and Music fundraiser taking over Oslo, donating all income to efforts aiding grass-root initiatives of arts and culture in Beirut, Lebanon after the devastating explosions. Li Beirut is a collaboration between 3rd Space and Nordic Black Theatre & Cafeteatret and is a one-night-only event where you can support the cause by attending an unique acoustic experience with Nicaragua´s Katia Cardenal + Family, Lina Holt and MC PHATS by way of Chile.
KATIA CARDENAL
Started her career at 15 years old singing in her school choir. Performed alongside her brother Salvador Cardenal as the duet Dúo Guardabarranco for 30 years, releasing 13 albums, until her brother's untimely death in 2010.
She Participated in Nicaraguas rural literacy campaign following the revolution in 1979. She started her solo career in Norway releasing 7 albums under Kirkelig Kulturverksted, one of them, Prøysen på Spansk being certified 3x Gold.
She is the founder of the International Female Singer Songwriter Festival in Nicaragua to highlight women's voices in the music industry, with over 50 female artists from all over the globe participating. Yearly sold out concerts in the National Theater of Nicaragua. Touring over 30 countries across the world across four continents. With over 25 releases under her belt she has the biggest musical catalogue for a Central American artist.
She Recently wrapped a 15 leg tour of the United States, Mexico and Central America marking her 40 years in music.
Nina Cardenal started playing guitar at 5 years old. Recorded vocals in Prøysen på spansk at 11 years old. At 14 started performing as a backing vocalist and guitarist for Duo Guardabarranco and other Nicaraguan artists. Became her mother's full time guitar player 11 years ago, touring the world. In 2011 she founded the duet Nina & Sebastian alongside her brother sid hart Sebastian. They had the number one song and album in the country with their release "Últimamente". Performing across Nicaragua and opening for major Latin American acts.
Their youngest brother Alex Cardenal started writing music and playing guitar at the age of 14 with his band Alter Ego. After moving to Norway he developed himself as a producer and accompanied his mother on a North American tour as a guitarist.
In the past year, Nina released her debut EP as a solo artist "No Volveré", Siddharta launched his solo project under the name Sid Hart releasing his debut album and Alex Cardenal released two electronic music EPs.
——
The accompanying acts will include:
– spoken word by Hanna Asefaw.
– performance by Peruvian rapper PHATS @phatsofficial
https://spoti.fi/32juEL3
—-
About Li Beirut Art and Music Fundraiser
Beirut has earned its title as one of the most innovative art and music capitals of the Middle East if not the world. Birthing new genres in music and legendary artists, their sound has reached every corner of the world, including a unique relationship with Oslo through the yearly festival Beirut and Beyond. Following the tragic explosions in August 4th, the city was left in devastation. As artists, venue owners and culture producers, it is our time to help rebuild the city that has given so much to the world.
"Li Beirut", named after the song by the iconic Lebanese singer Fairuz, is an art and music fundraiser that will take over the city of Oslo. Each venue and organizer will set up their own event to send funds to rebuild cultural institutions in Beirut that were affected by the explosion, spreading the public throughout the city to uphold the strict safety regulations.
About Station Beirut:
Launched in Beirut, Lebanon in 2013, Station seeks to contribute to the regional creative scene by offering a platform for artists and curators in the visual, performing and digital arts. Station aims to facilitate the exchange between artists, audience and cultural stakeholders by maintaining contextualized interdisciplinary programming and a collaborative approach to the creation, experimentation and presentation of cultural programs. Station's programming is informed by the current moment of possibility in the region's cultural history. Activities include exhibitions, workshops, live performances, artist residencies and community events.
Working with local NGOs, Station has since mid-April 2020 been active with emergency food relief to the wider Lebanese population, as the chronic economic meltdown dates from before the blast. In the past weeks, they added distribution of clothes and medicine.
Station Beirut:
https://www.stationbeirut.com
Lebanese Solidarity Fund (AFAC):
https://www.facebook.com/afac.grants/
Theatre Relief Group in Lebanon:
https://www.facebook.com/Theater.Relief.Lebanon/
Beirut Musician's Fund (Tunefork Studios):
https://www.facebook.com/tuneforkstudios/