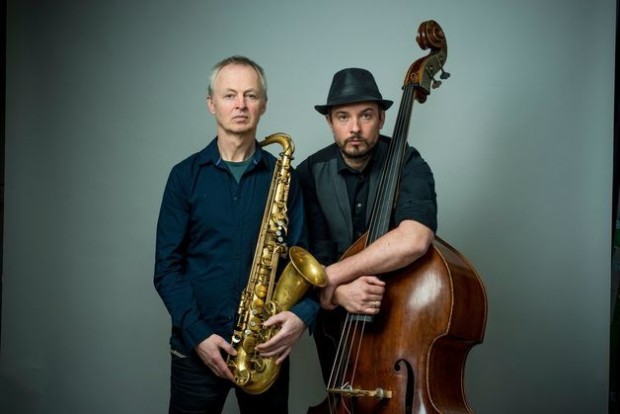 Søndag 27. september, kl. 20:00-21:30, 230/150 kr.
(Dørene åpner kl. 1930)

Tore Brunborg: saksofoner, Steinar Raknes: bass
Foto Per Heimly
Vi trenger vel ikke si mer – to av de fremste stemmene i norsk jazz de siste tiårene sammen som duo. Mange av oss husker med stor glede, da de som nystartet duo spilte på Kampenjazz høsten 2016. Nå er de tilbake, fire år og ni dager seinere. I mellomtida har de gitt ut ei plate, «Backcountry», og har på trappene et helt nytt album, «Folk Songs», spilt inn Høybråten kirke i slutten av mai i år.
Vi blir ikke bare servert hardbarket americana, jazz og blues for folk med hår på armene, vi blir også servert det sakrale, det vâre, det vakre og det sårbare. Servert av to mestre som sammen skaper magi.
De anretter musikk som ofte finner sin gjenklang i, men også langt overskrider duoens navn. Et Backcountry er ikke bare det bakstreverske, det tilbakeliggende. Det dreier seg like mye om kampen for å overleve under tøffe rammebetingelser, og dermed om hvor viktig det er å være lydhør overfor de samme omgivelsene!
Tøffere enn toget, mykere enn snø!
Smittevernregler
Vi følger myndighetenes smittevernregler og sørger for en trygg konsertopplevelse.
Alle, både medlemmer og andre, bes om å kjøpe billetter på TicketCo. Bare unntaksvis vil billetter selges i døra.
Det tilbys enkel mat og drikke.
Du bestiller og får servert mat og drikke ved bordet ditt. Betaling kun med kort eller Vipps.
Dørene åpner 19.30, konsertstart 20.15. Vi anbefaler alle å komme i god tid.
Hold smittesikker avstand også ved innslipp!
Hold deg orientert om hva som skjer: