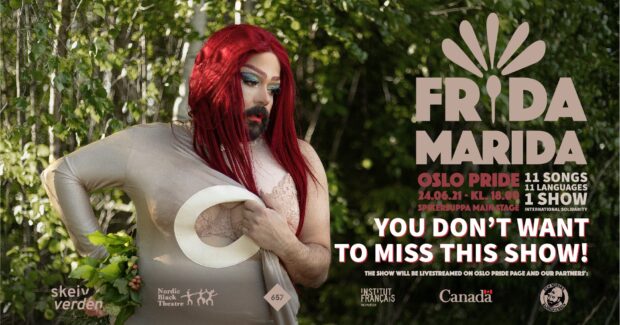 På Spikersuppa kl. 18:00-19:00
Frida will sing in 10 different languages to show case international solidarity for the theme of Oslo Pride 2021.
The songs in Arabic, English, French, Italian, Spanish, Greek, Portoguese, Persian, Hebrew, Turkish and Norwegian, will take you on a journey of love, peace, self-acceptance, inclusivity and address body shaming, revolution and freedom.
This is Frida´s first show after the death of her father this year, before she got the chance to open up to him and the rest of her family. A daily struggle between taboos, social norms, freedom and acceptance.
Frida dedicates the 2021 show to her beloved father. Whom she tursts that his dear sould will be watching her without fear from the society and is confident that he will accept her with love.
This show is supported by:
Skeiv Verden, Nordic Black Theatre, 657 Oslo, Embassy of France, Embassy of Canada, Bamseklubben and a surprise that will appear on stage! DON´T MISS OUT!
The event will feature a collaboration with Drag Queen Cassie Brødskive in the act «FAT» supported by Bamseklubben. This act tackles body shaming, an issue that Frida has struggled with in her life.
The amazing Open X band of the Nordic Black Theatre will accompany Frida on stage : Dag Kalvøy on guitar, Thomas Dulsrud on drums, Andreas D Famme on guitar bass, Kristian Wentzel on Keyboard.
Along with Nawar Al Naddaf on oud, Jamal Al Attris on oriental percussion, Inger Hannsidal on violin.Choreography by Jakov Lind. Costumes by Henrik Wilhelm Johansen.