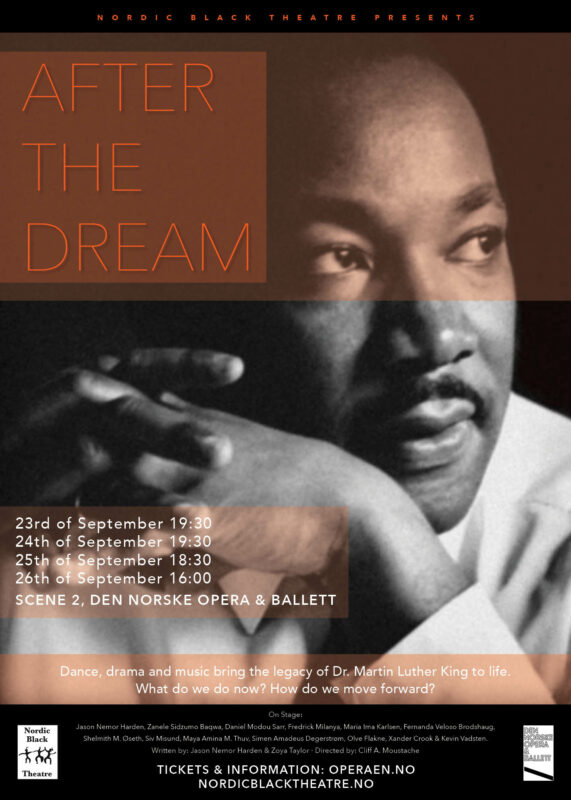 23. – 26. september 2021 på Operaen, 300 kr/ 150 kr.
Følg oss for å få med deg siste nytt, og for å få et eksklusivt innblikk under prøvene på Operaen!
Facebook
Instagram




AFTER THE DREAM
Arven etter Martin Luther King brakt til liv med dans, drama og musikk.

Martin Luther King jr. har inspirert mange i kampen for likeverd og rettferdighet. After the Dream fokuserer på det siste året av livet til Martin Luther King da han ble mer radikal og mer kritisk til den amerikanske regjeringen. Dr. Martin Luther King Jr. oppnådde enestående fremgang for borgerrettighetsbevegelsen i USA og har siden inspirert millioner til å fortsette arbeidet for likeverd og rettferdighet i hele verden.
Store deler av hans historie blir ofte fortalt feil, eller misforstått. Manusforfatterne Jason Nemor Harden og Zoya Taylor har prøvd å gjøre noe med dette. De har også satt søkelyset på kvinnene King jobbet sammen med og var inspirert av.
Forestillingen er på engelsk.

Støttet av Den Amerikanske Ambassaden i Oslo .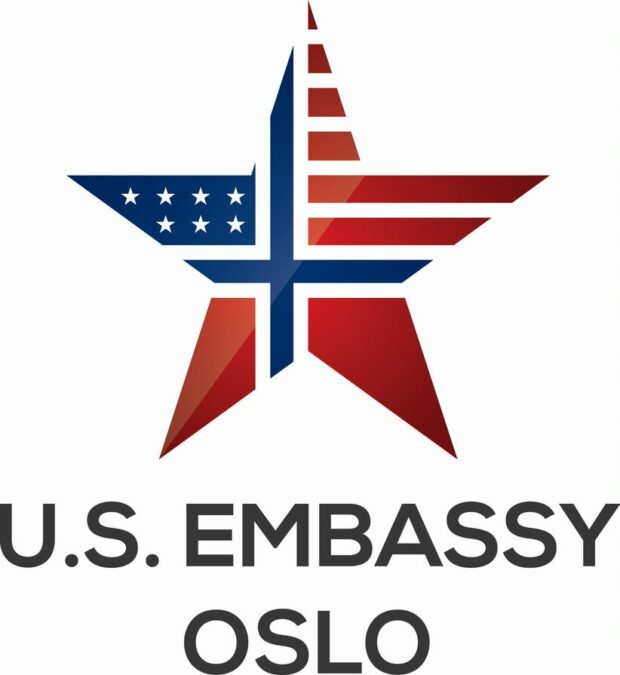 —————-
English
After the Dream – The legacy of Martin Luther King is brought to life through dance, drama and live music.
Dr. Kings «I have a dream» speech is very well known, what is less known is that he became much more radical in the following years. We find out how and why in this play where we meet Dr. King in the last year of his life. We also meet some of the key women that Dr. King worked with and was inspired by.
The play will be performed at The Norwegian Opera & Ballett.
The play is in English
Supported by the U.S. Embassy Oslo.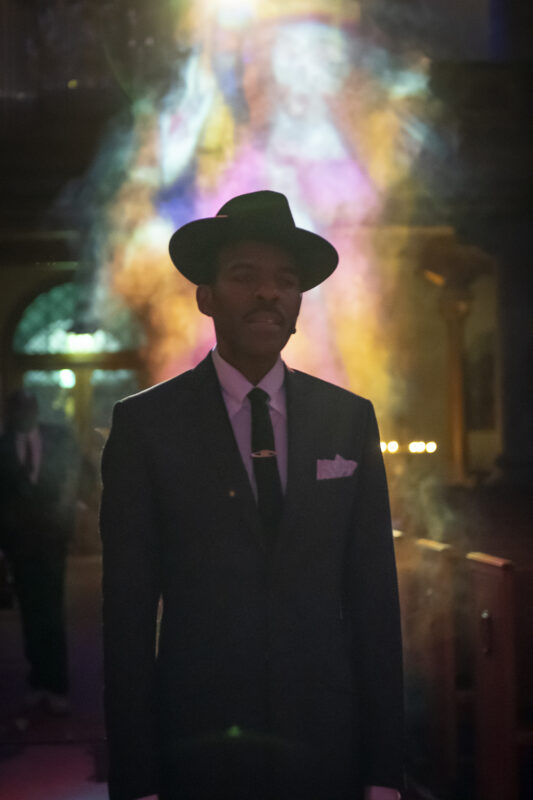 Manus: Jason Nemor Harden og Zoya Taylor.
Regi: Cliff A. Moustache.
On stage:
Zanele S. Baqwa
Jason N. Harden
Kevin Vadsten
Olve Flakne
Xander Crook
Fredrick Milanya
Fernanda Veloso Brodshaug
Maria Karlsen
Daniel Modou Sarr
Siv Misund
Shelmith M. Øseth
Maya Amina M. Thuv
Simen Amadeus Degerstrøm

Choreograph: Bright Wamwanduka
Producer: Jarl Solberg
Ass.producer: Sheila Leoneli
Light design: Theodoros Kyratzis
PR/Communication: Kamelia Javadi
Make up: Shamim Mahammed Ibrahim
Scenograph: Navpreet Deol
Video editor: Sarah Rezayat, Benyamin Farnam
Costumes: Denis McBarnette
Costume ass.: Cornelius Bergersen